The 1st June saw us spending a night in the Helford River on our way towards the Scillies. We've been here before on Ocean Dancer but this time we anchored Britt in Ponsence Cove on the South side of the river just iniside the entrance. Britt is a bit too heavy for the mooring bouys, and of course anchoring is free! We took the dinghy over to the sailing club to tie up and made the very reasonable donation in the honesty box. We had a bit of a walk with Zoe and then popped into the lovely Shipwright Arms for a quick beer. Luckily we had cash as the banking systems were down adn nobody could pay by card.

The next morning we set off for New Grimsby Sound beteween Tresco and Bryher. We went well ofshore past Lizard Point but even so still found it a little rough. We anchored in fairly deep water but the anchor seemed well dug in so we then took took the dinghy ashore and gave Zoe a walk on Tresco. She enjoyed running in the heather and when we got down to New Grimsby we had an enjoyable beer in the New Inn before making our way back to the dinghy and Britt.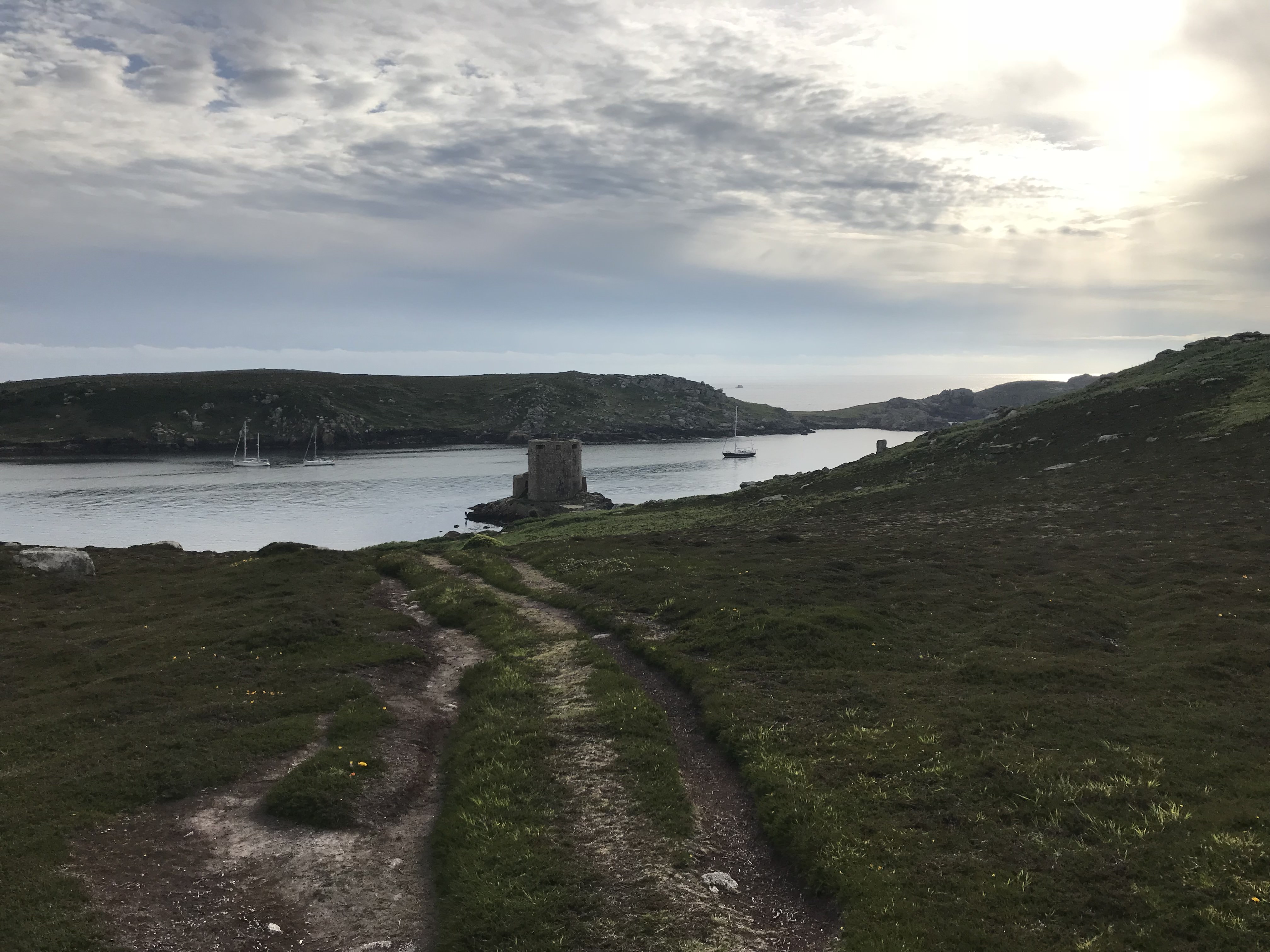 The following day we took the dinghy across to Bryher and had a nice walk around the island. In the sheltered parts where the houses are there are often eggs, vegetables and fruit for sale in little huts outside. A great source of local produce. There was also a nice litle fish shop where we got some supplies for supper.

I got a nice shot of Lee looking for glass (and other flotsam and jetsam) on the beach with Britt in the background.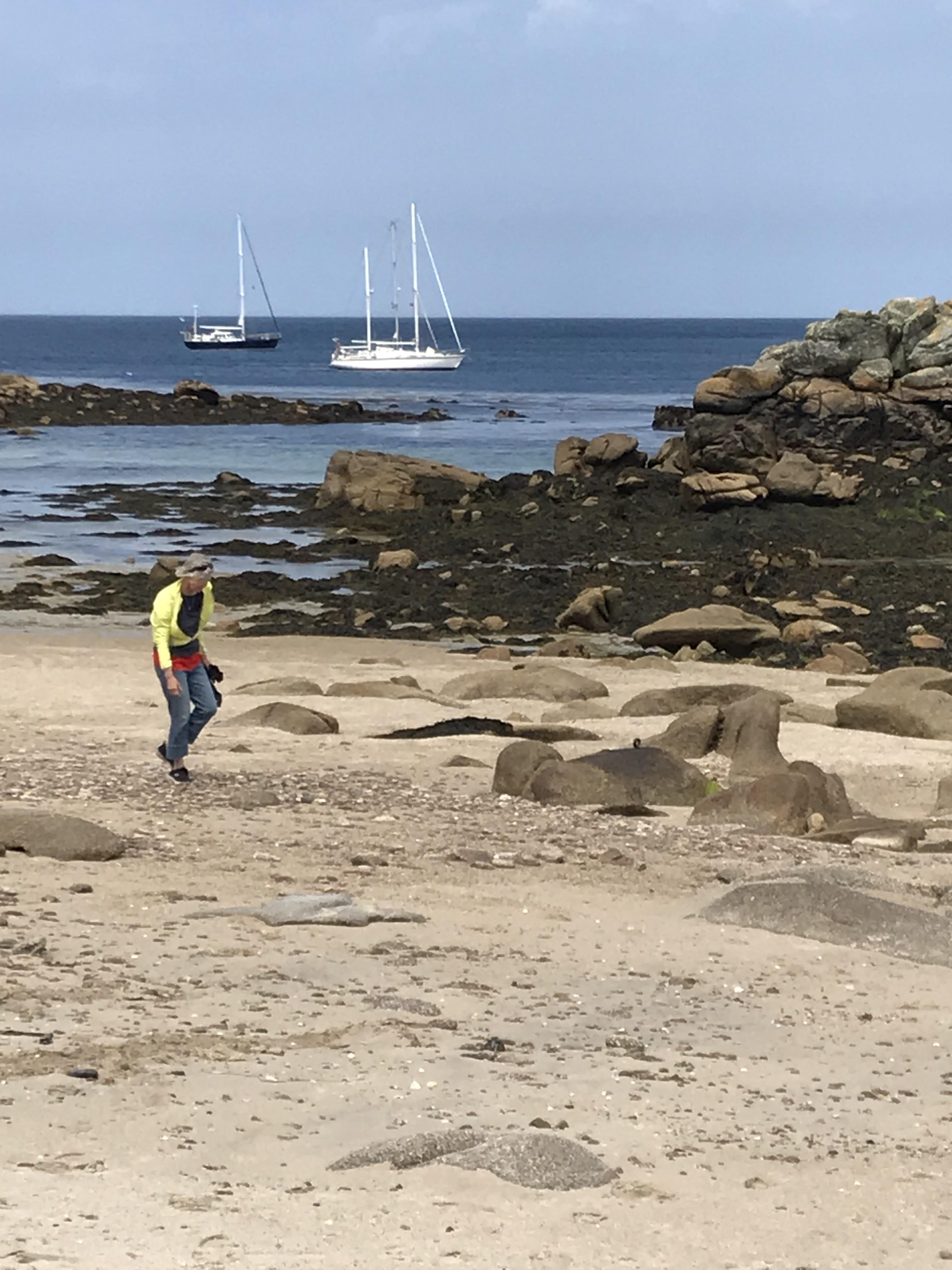 This is another shot of Britt in New Grimsby Sound.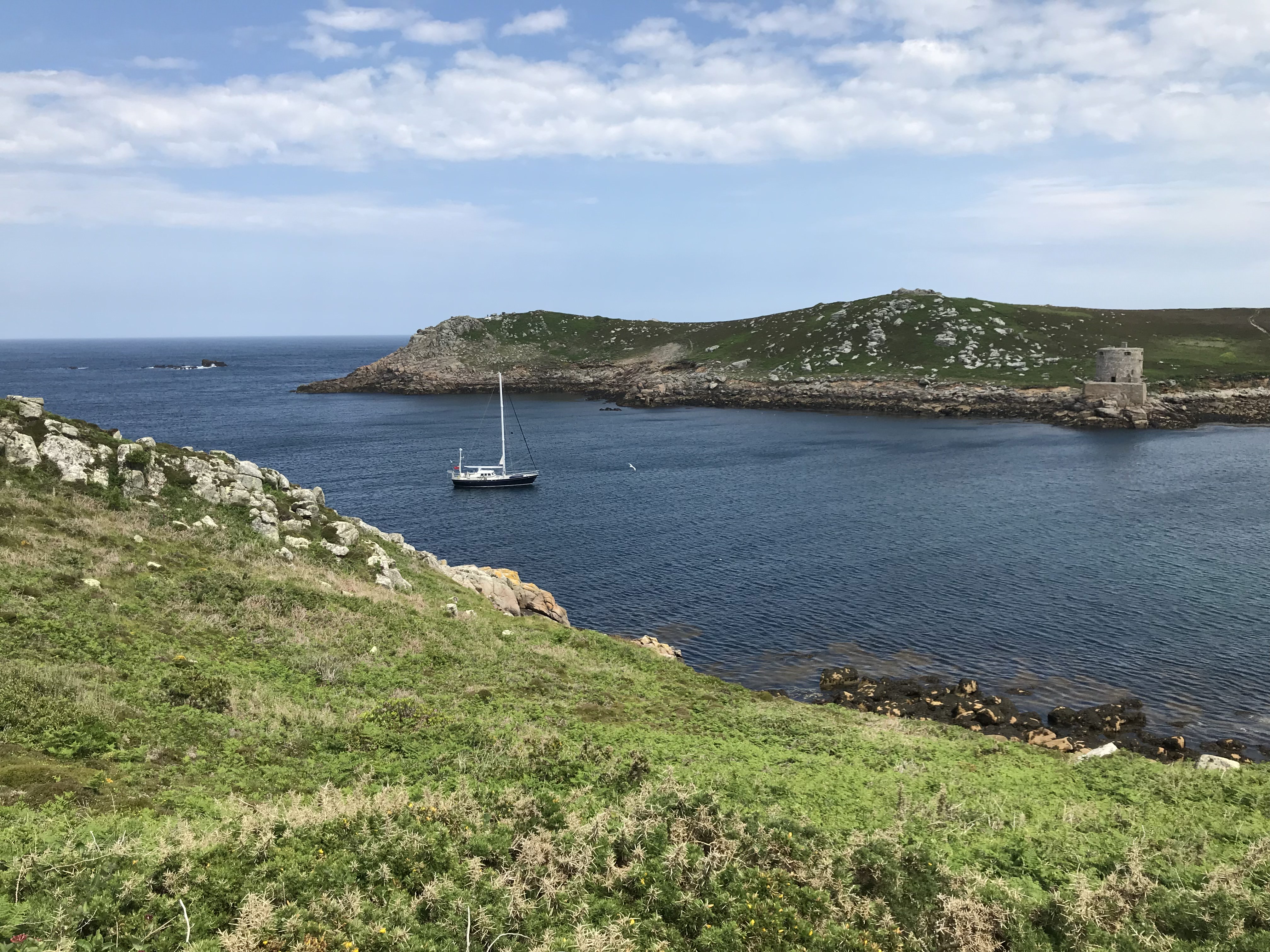 On the 4th June we motored around to acnhor in The Cove between Agnes and Gugh. This was our first arrival point in teh Scillies a few years earlier on Ocean Dancer and I still vividly rcall the joy of being able to see the anchor on teh bottom for the first time. Not something the happens in the Thames Estuary.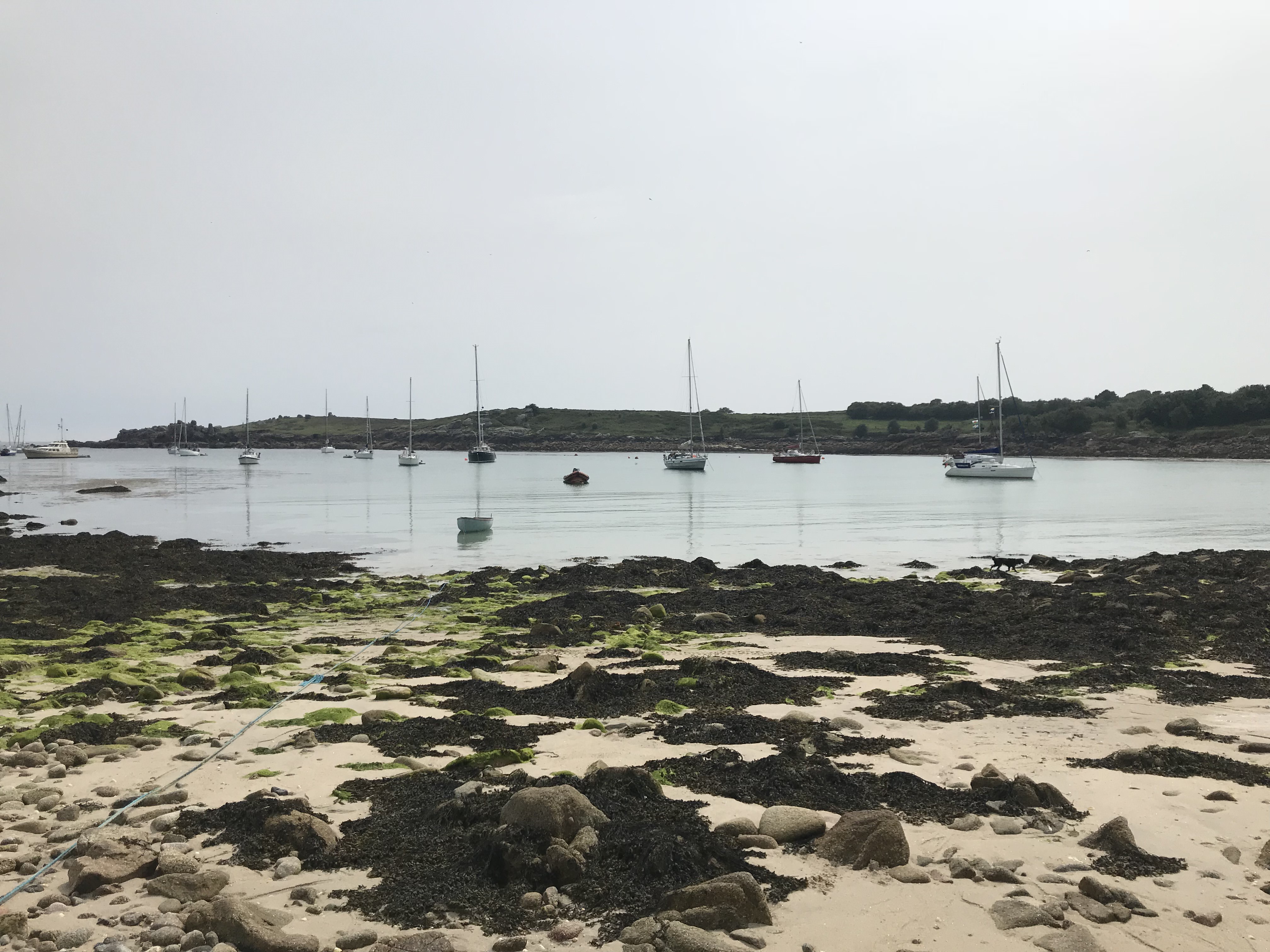 We did the obligatory walk around the Island and came across this interesting rock formation. I'm sure I can see a dogs head at the top. Funny how the mind wants to overlay things onto what's out there.

It was a bit rolly in the cove so after a couple of nights we decided to up anchor and head over to St Helen's Pool between Tresco, St Helen's and Tean. It's a really well protected secure anchorage and is only a short dinghy ride away from either Tresco or St Martins.
We had some nice walks on both Tresco and St Martins. Whilst on St Martin's the Ottilio SwimRun race was going on. It was great to see the competitors running around St Martin's and then swimming across to St Mary's. It was a hot day so I'm sure it was a tough race.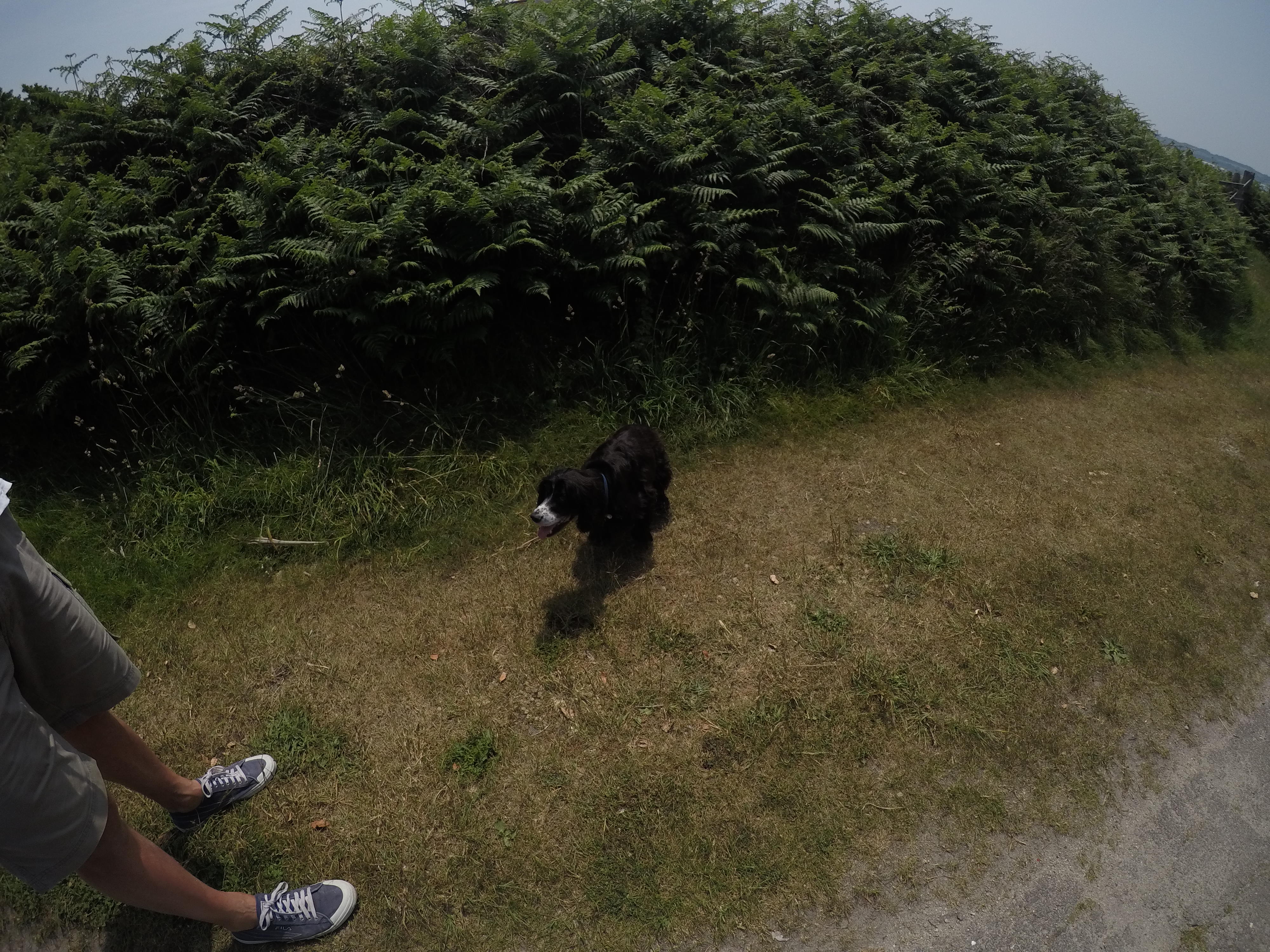 We got a surprise when we got back to Britt as there was a small bouy right near our anchor. We had a look at it from the dinghy but it seemed to be stuck fast (probably to my anchor chain). There was a new boat in the anchorage next to us so we popped over to see if they knew where the bouy had come from. Small world, it was another boat from the Little Ship Club, Bagheera of Whitby with David Clements as its skipper. They didn't know where the bouy had come from however. A short time later a rib came by to ask if they could have their bouy and anchor back. Apparently they had laid some bouys for the aforementioned swimmers in the SwimRun and had clearly put this one too close to our anchor. We had to lift the anchor and reset it, but in a way it worked out well as we cleaned it on the way up which saved us a job early the next morning.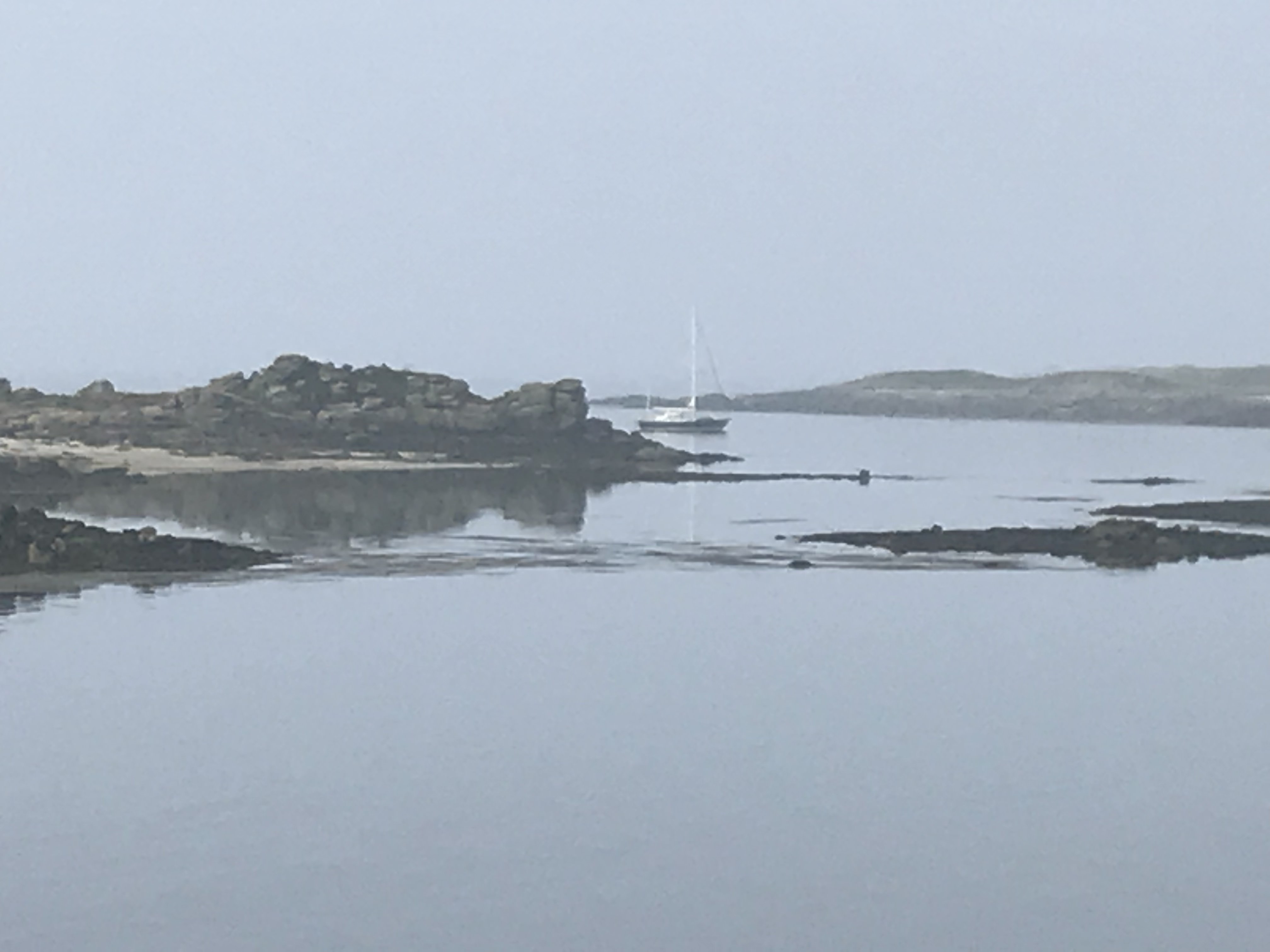 Monday 11 June sees us up early and getting a bit of a sail on the way back to Falmouth. Unfortunately the wind died about half way home and we had to motor but it was great whilst it lasted.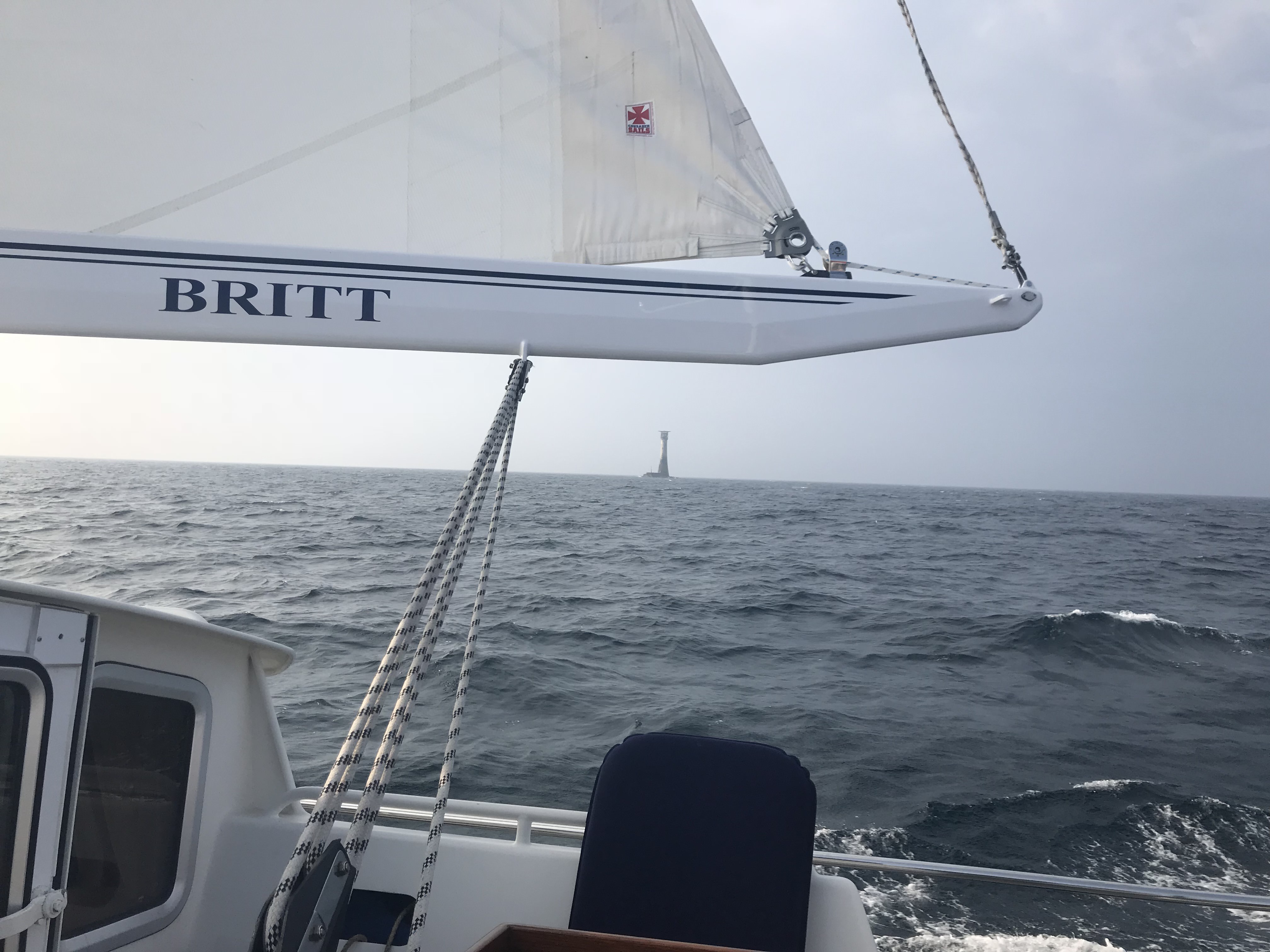 We enjoyed a couple of days in Falmouth and then it was on the train for the journey back to London. We needed to get Zoe's Pet Passport renewed before we headed off to Spain and it was a little more complex than first thought, so I had arranged for a morring in Falmouth for a month. Our departure date to cross Biscay was now set for 10 July.
I popped back for a few days towards the end of the month to do a few jobs on Britt. Whilst there there was a parade of sail for Falmouth Classics and my friend Miles and I took the dinghy out to have a look. Not much wind unfortunately but they still looked great. In addition to the Falmouth Classics at the same time it was the Falmouth Sea Shanty Festival which gave myself and Miles an excuse to drink some nice beer.