Thursday 1 August 2019
Isla De Descubidor to Anchorage Moraira (38 41.0199N 000 08.7575E) 5NM 0:35 on engine 1:25 under sail Wind N / NNE 10-15kts
After a rolly day and night we decided to leave our mooring bouy next to the cliff and head to Moraira to see what the swell was like there. We got the sails up and had a nice sail across although after a short time I put the mainsail away as it was shading the yankee. We sailed along just as well under the yankee alone at around 4kts. Rounding Cap D'Or we were please to see several yachts all with more or less stationary masts. We spent the afternoon on board and then took the kayak ashore to go for a walk and have dinner. The walk to town from the beach is very pleasant with some nice views back over the beach and anchorage. Britt is at the far end of the anchorage as I like to have as much space around as practicable.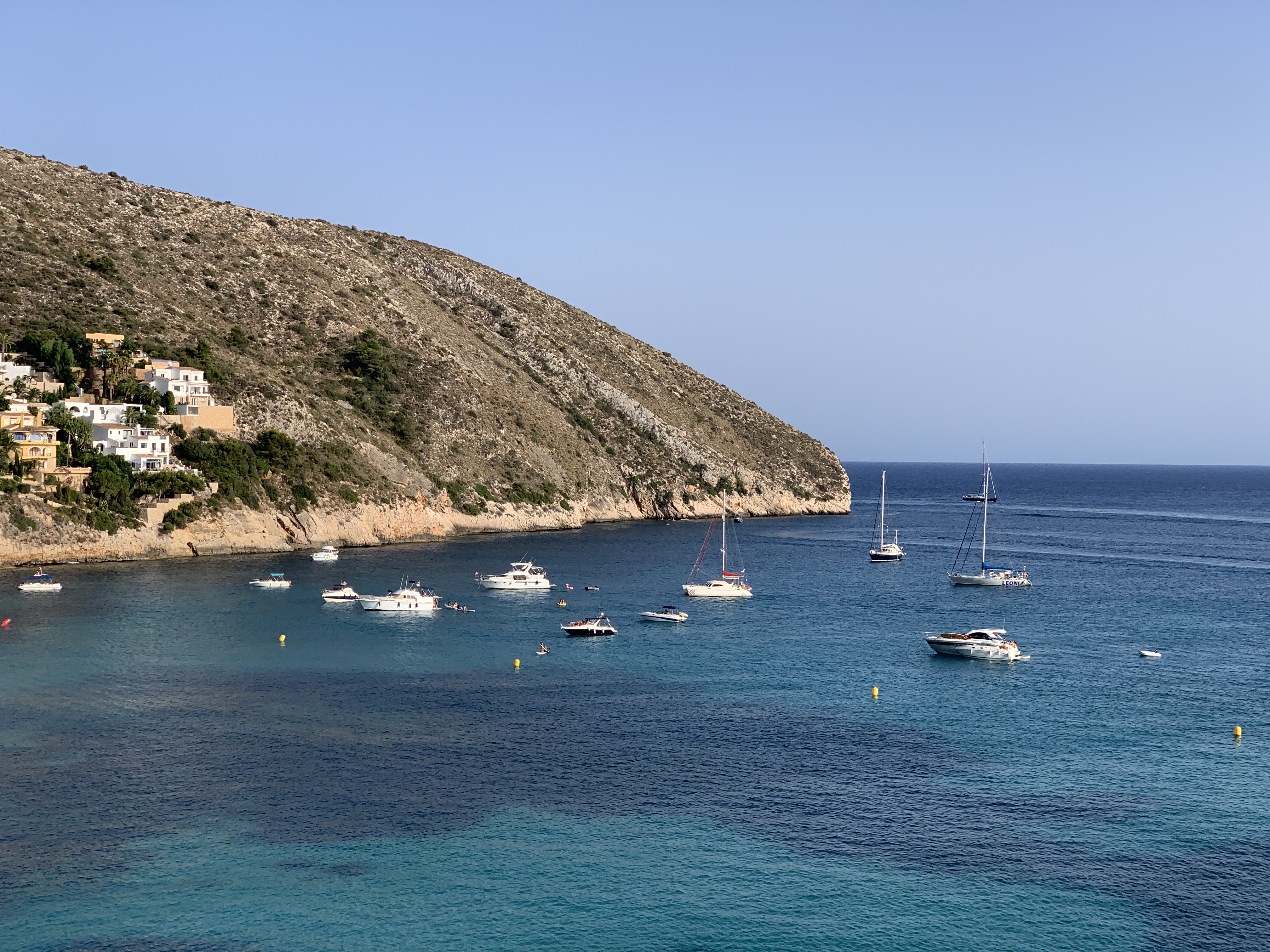 There was also a nice view out towards Calpe over the marina.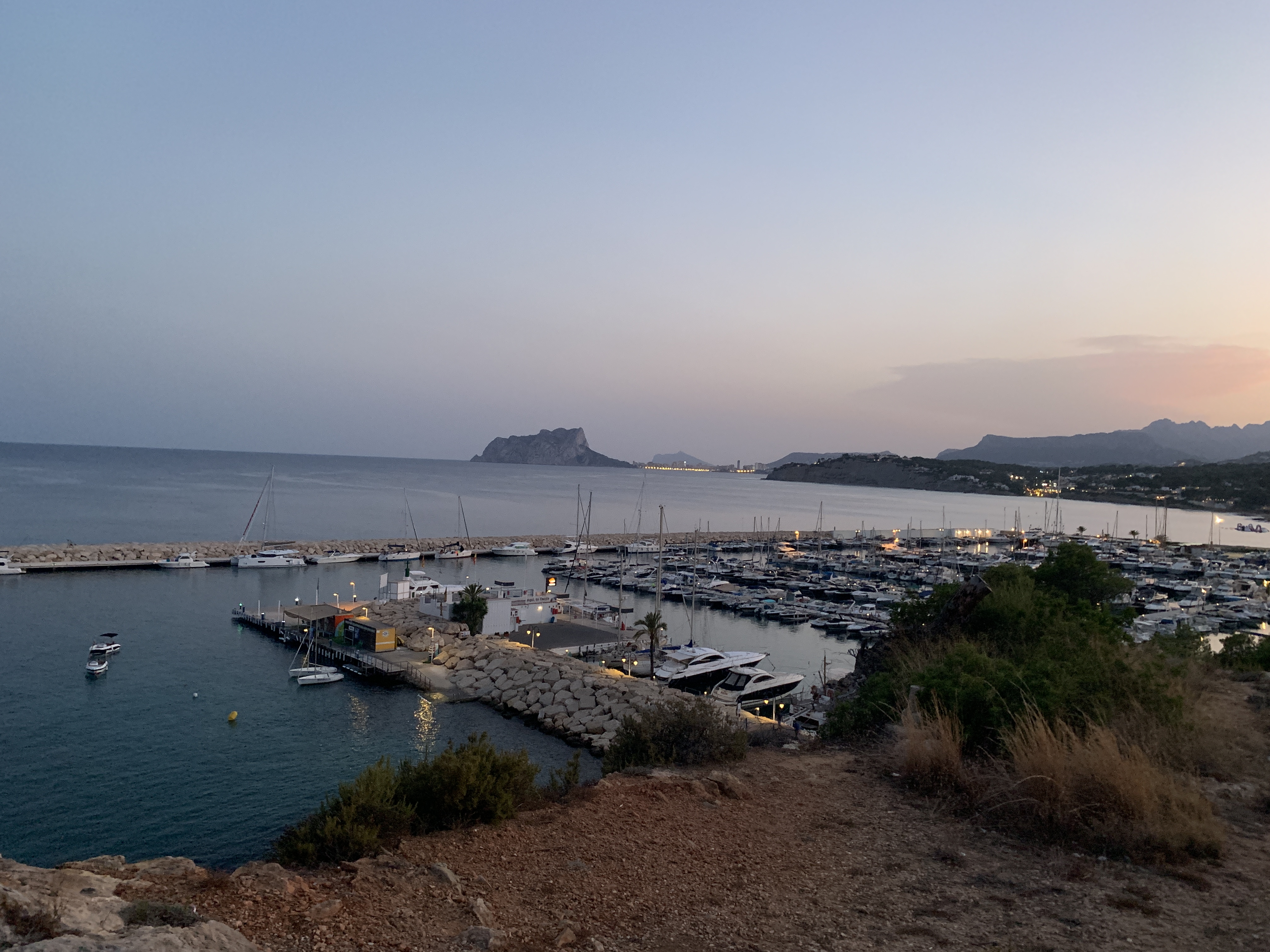 After diner of mixed fish which was very tasty we walked back to the beach and kayaked back to Britt in the dark. All went without incident and it was so much easier than the day before when we had tried to get off the kayak with a 1m swell rolling Britt. After what was, I think, my first night time swim this year we enjoyed a glass of red wine and then called it a night.
On our second day we walked up to the Torre Del Cap D'Or, an old watchtower at the top of the hill.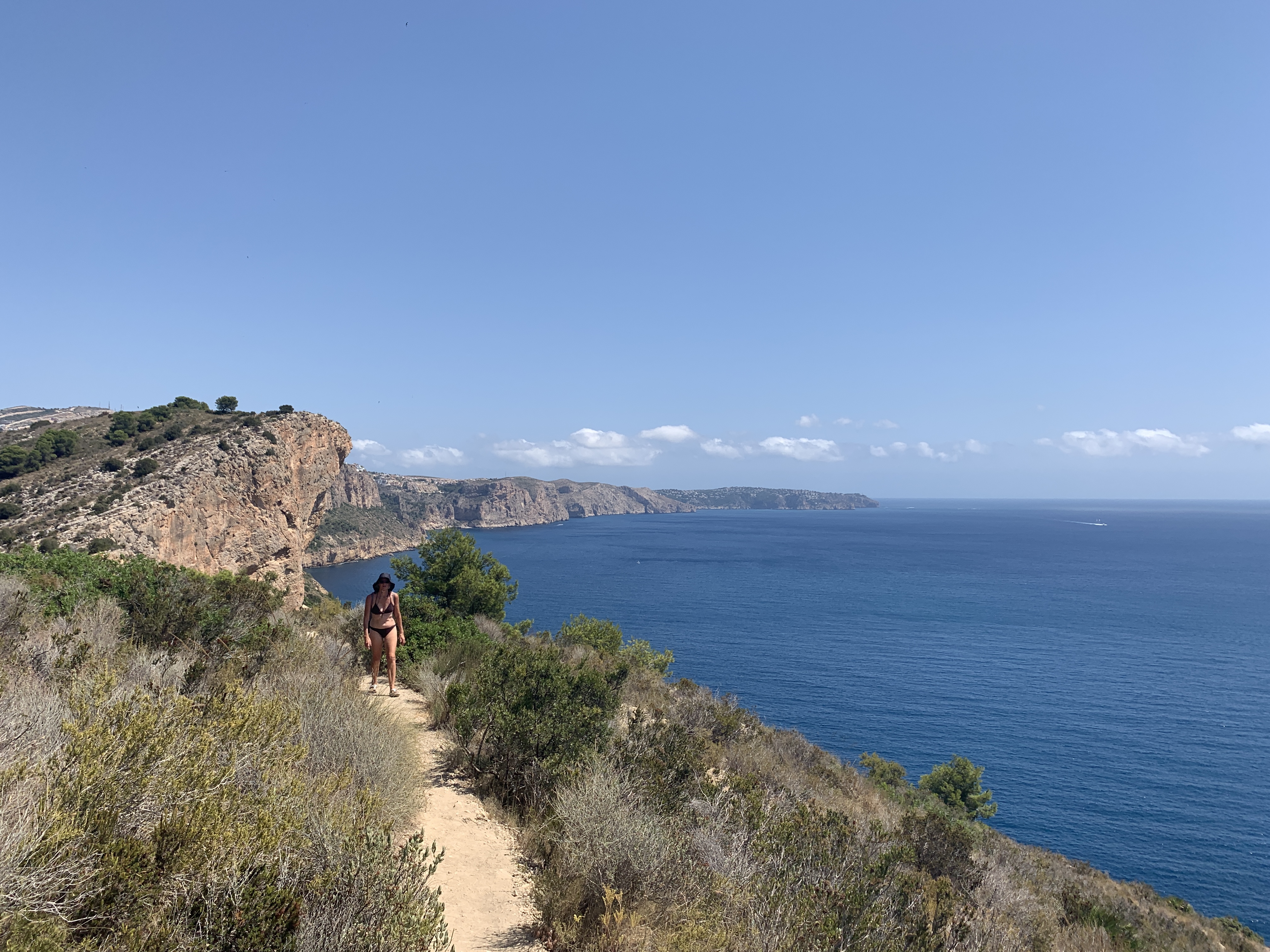 It was a hot day and a dry and dusty walk up the hill but worth it for the views at the top.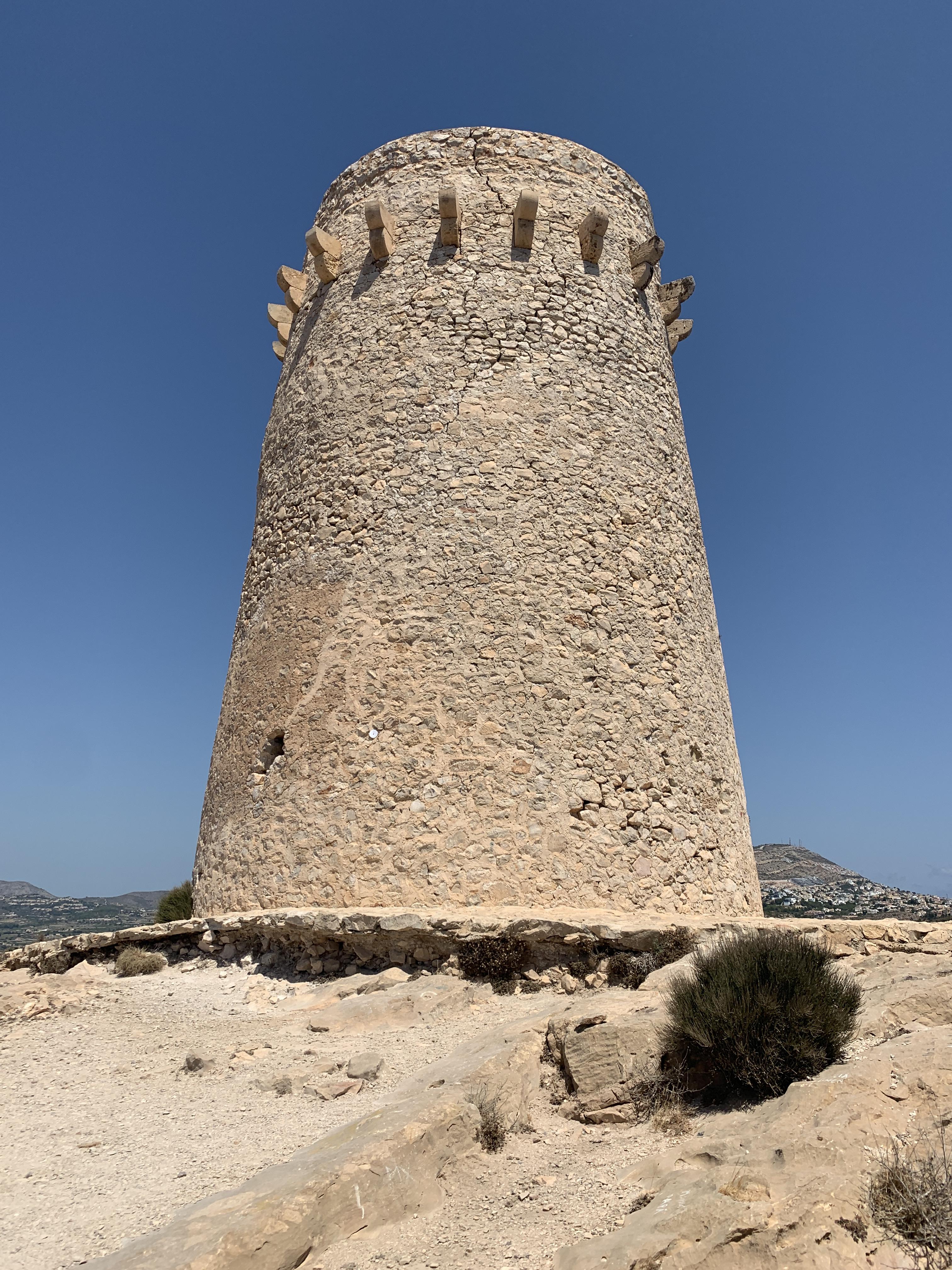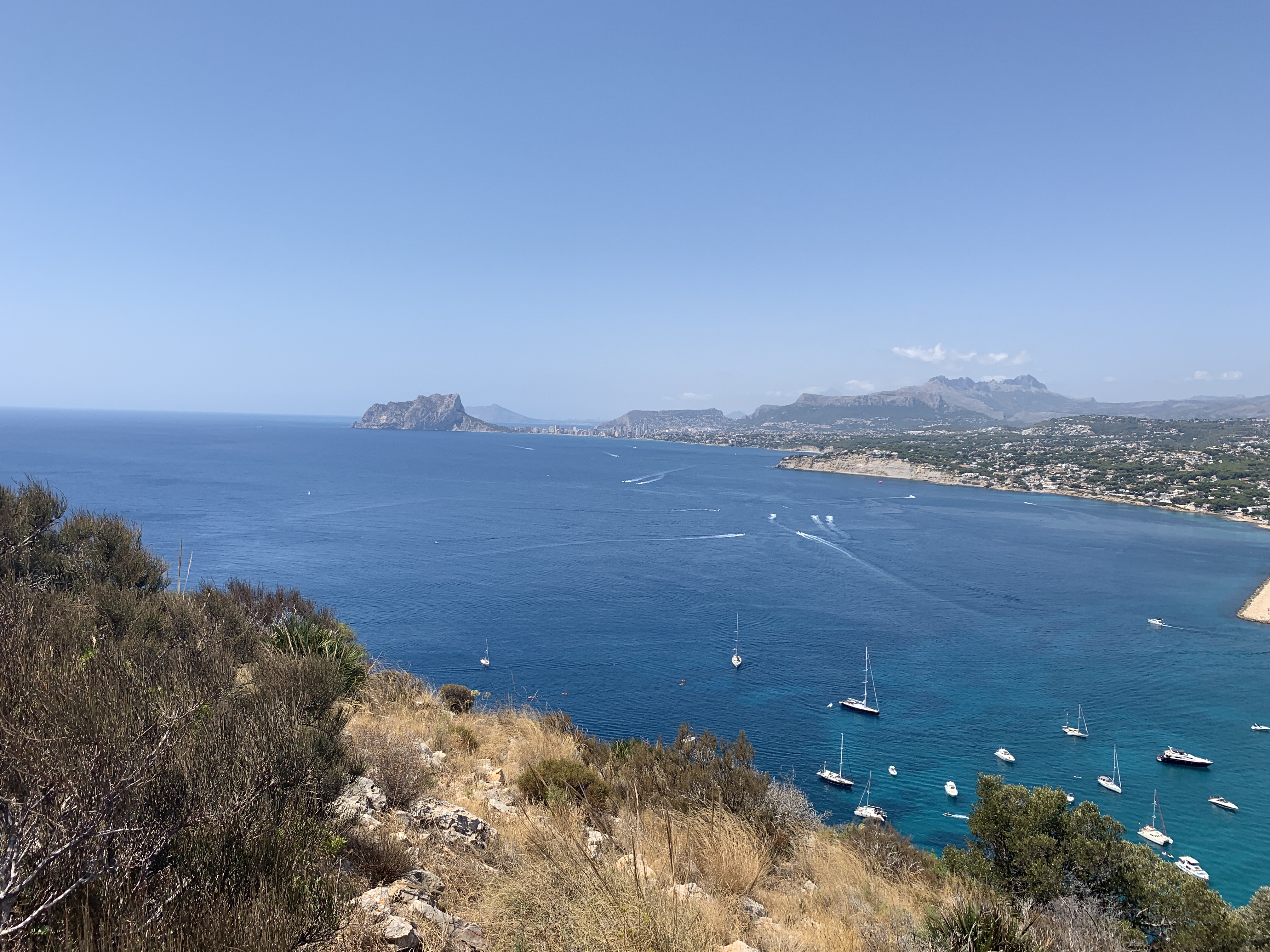 Britt can be seen in the anchorage the smaller of the two blue ships on the left.

On the Saturday night the tourist guide said it was a 60's, 70's and 80's music night so we paddled ashore and went to take a look. As usual in Spain we were too early. We got to hear some 60's music the DJ was playing and had a beer but didn't stick around for the 70's and 80's. As ever things were just getting going when we left. We did get a nice nightime view of Moraira on the way back the anchorage however.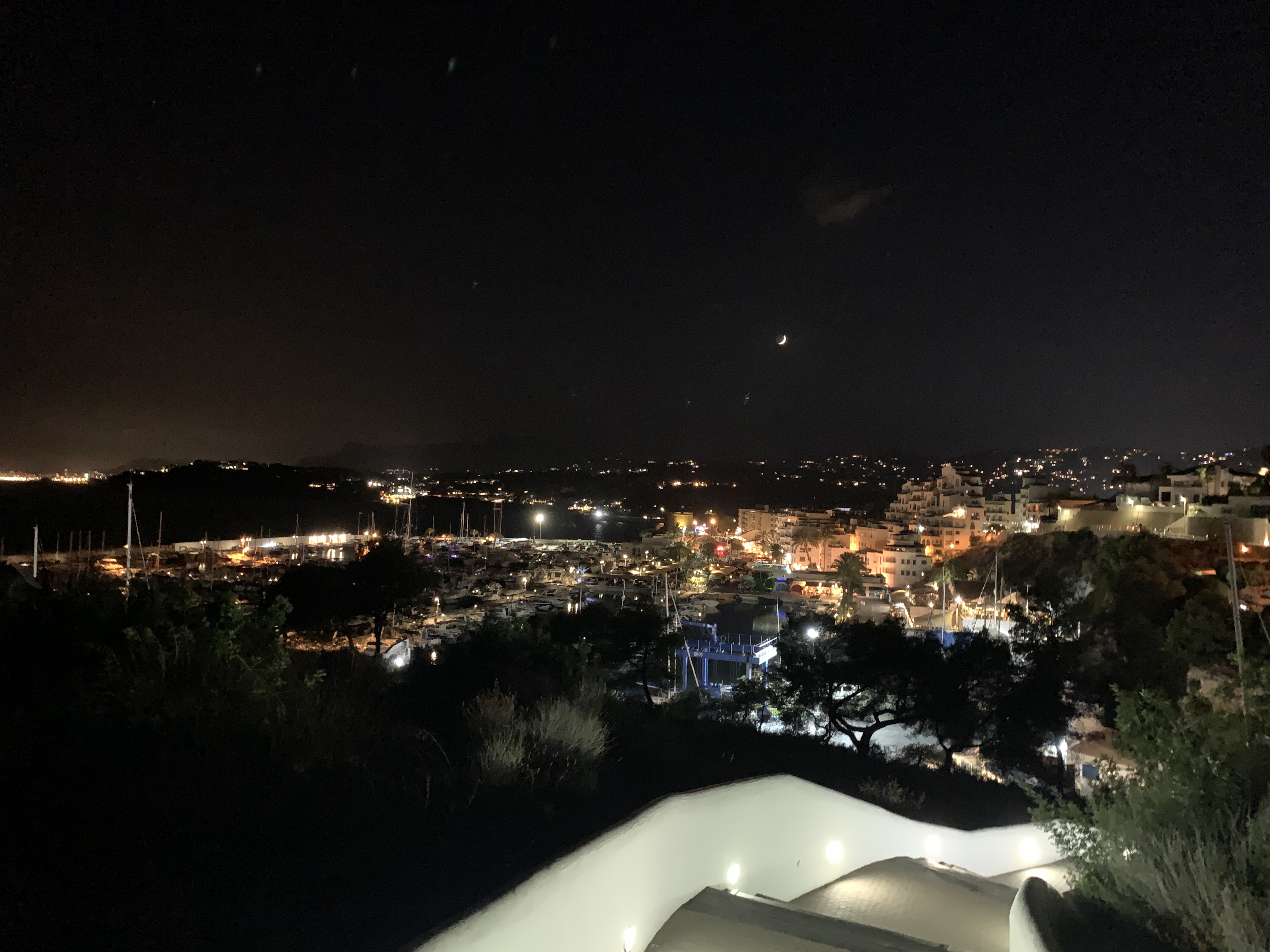 We enjoyed 5 nights in Moraira. Whilst there we found a very nice bakery which seems to be something of a rarity in Spain. They do great pastries but the bread is pretty average. The anchorage typically fills up with local boats during the day then they pretty much all go home in the evening.
Tuesday 6 August
Moraira to Anchorage in Calp (38 28.283N 000 03.9895E) 9NM engine 0:35 sail 1:50 Wind S10Kts
We left Moraira around 13:30 having done some shopping in the morning. Although the winds were light, for Britt, we decided to start to sail when we can rather than using the engine. We need to get used to that rather than simply putting the engine on. It was only a short distance and we in no particular hurry. Also given the light winds it was a good opportunity for Lee to helm with the sails up.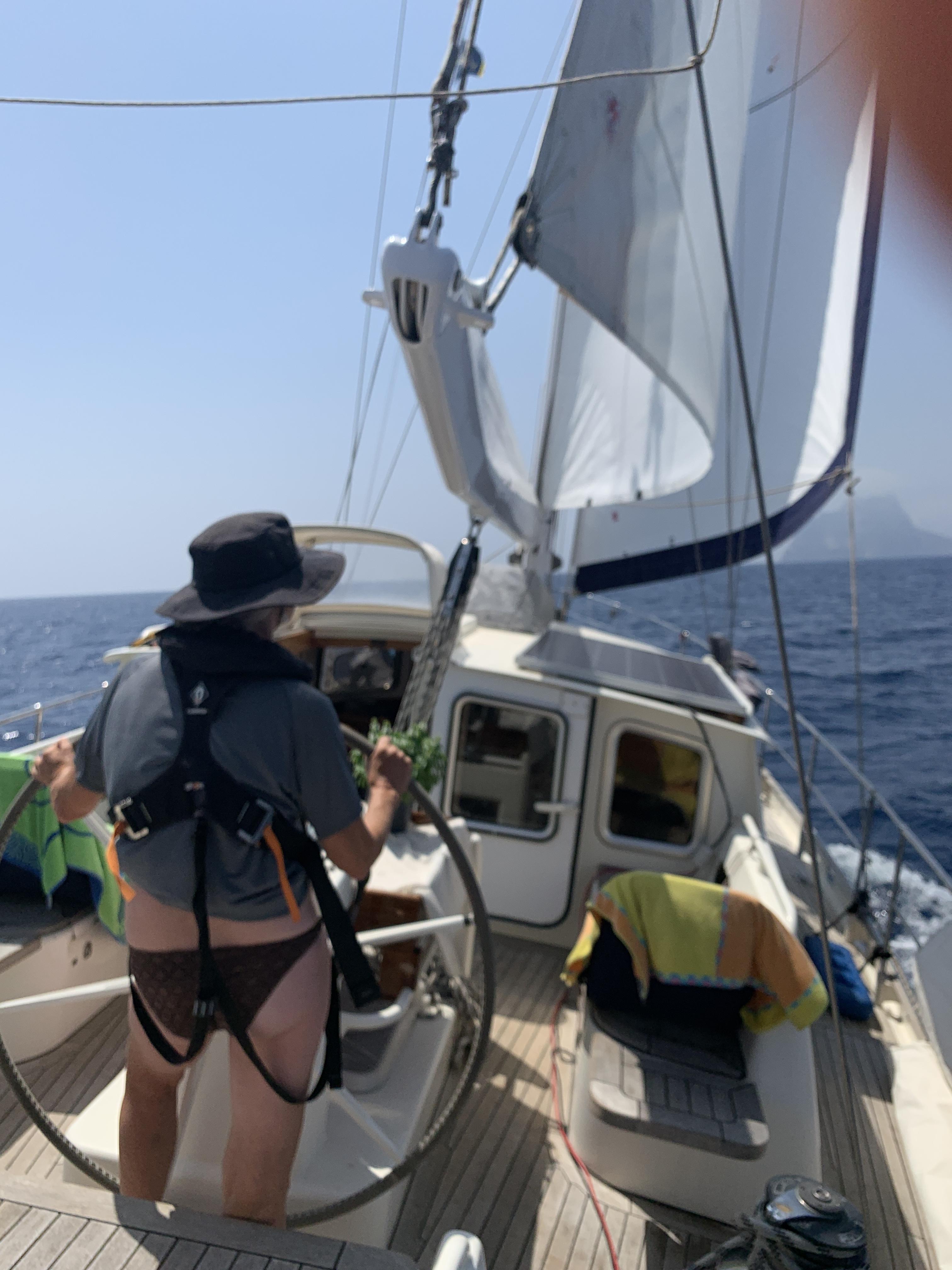 We anchored just outside the harbour entrance all on our own. The better anchorage was on the other side of rock but the winds were only forecast to be light so we chose this spot as it would be easier to get ashore.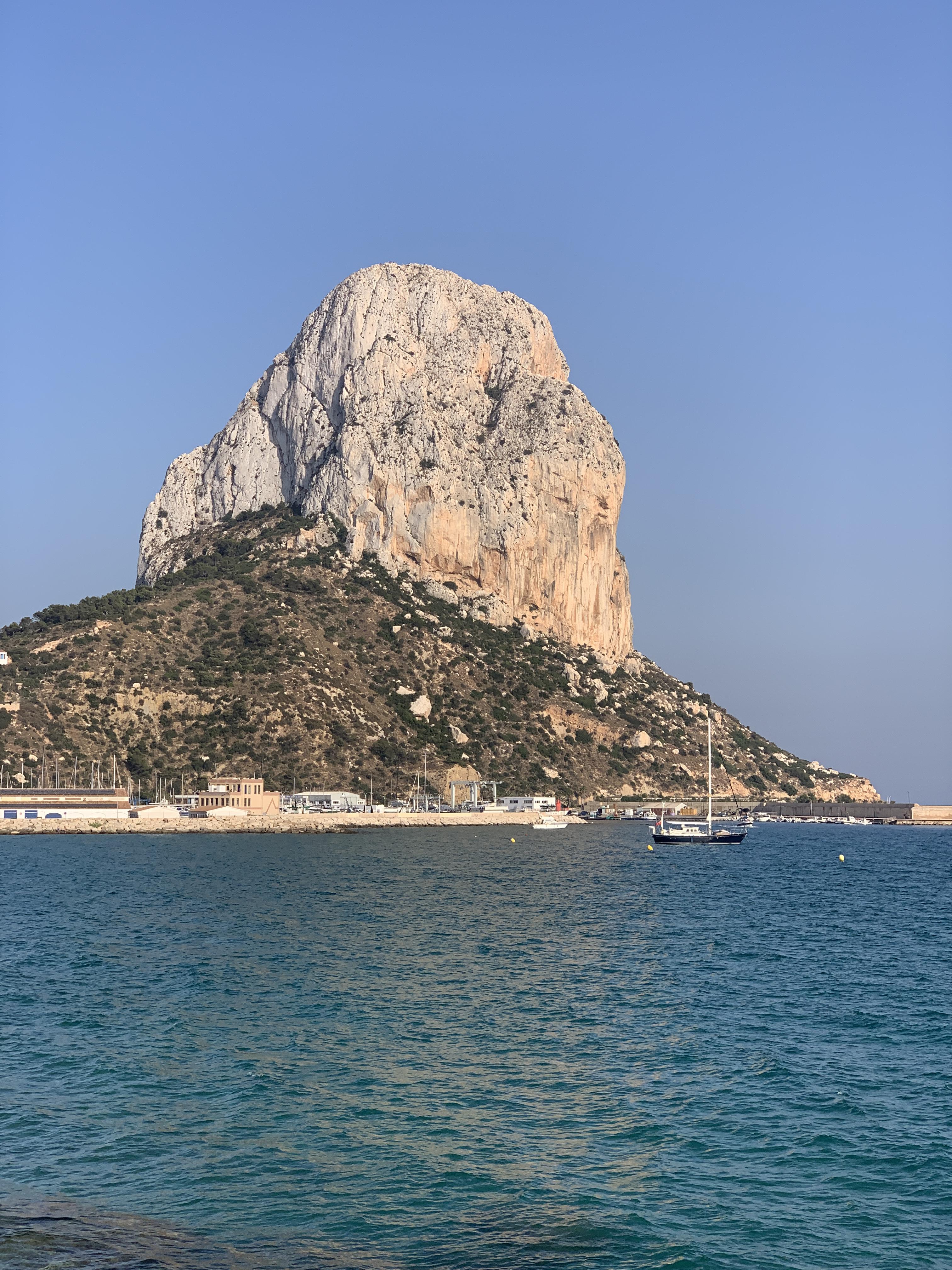 We used the dinghy to go into the marina. I asked in the office and they said it was OK to leave it but just for 2 hours. I suspect if we had asked the marineros they would not have put the time limit. Also a first for me the office wanted a copy of my insurance if we were going to leave the dinghy there. Luckily I had it on my phone.
We had a walk along the beach and then ended up back in the Yacht Club to eat. We overstayed our 2 hours but nobody complained. The food was OK but a bit pricier than we had seen in port so we should have probably just eaten there. Nice sunset though.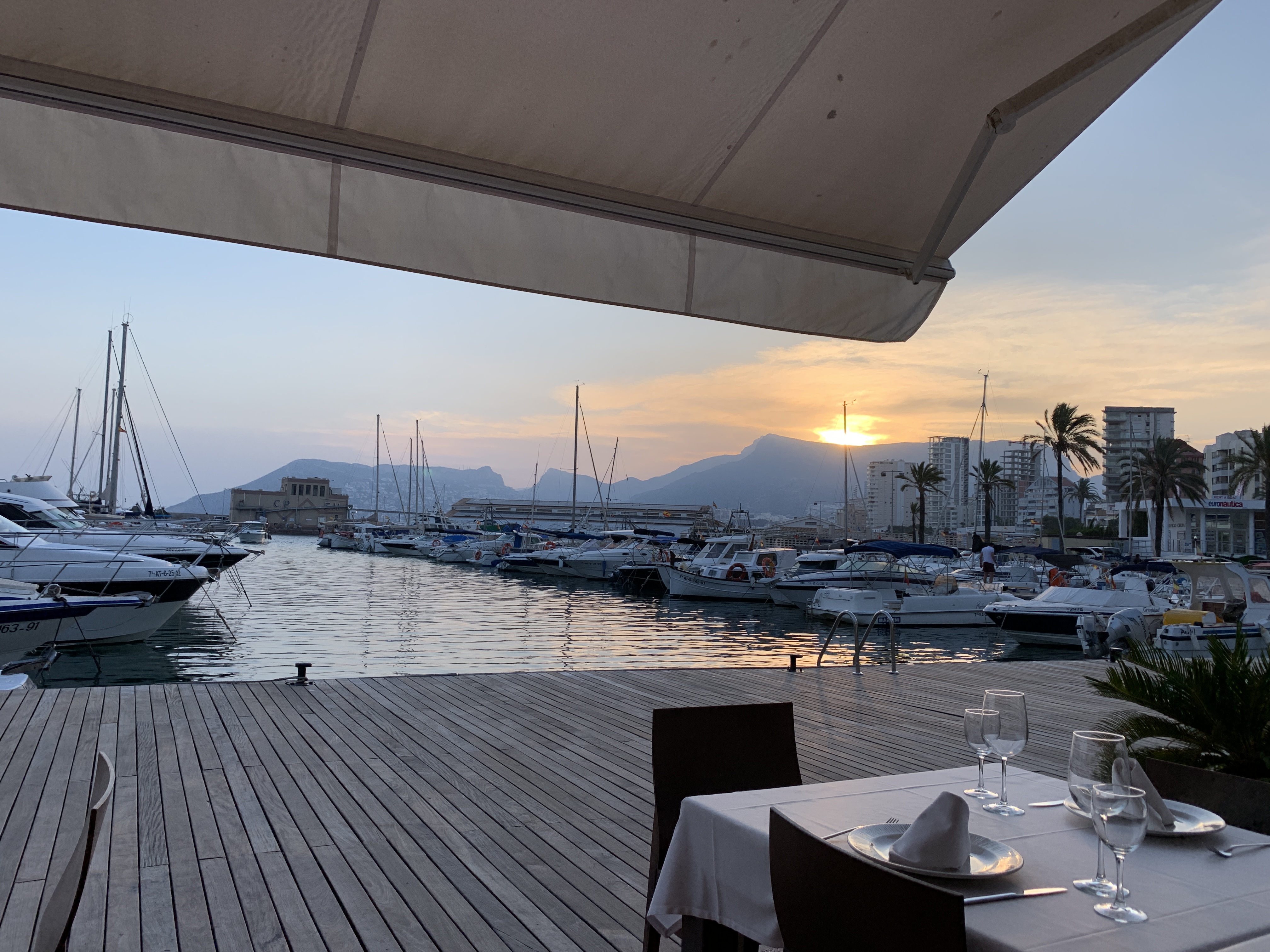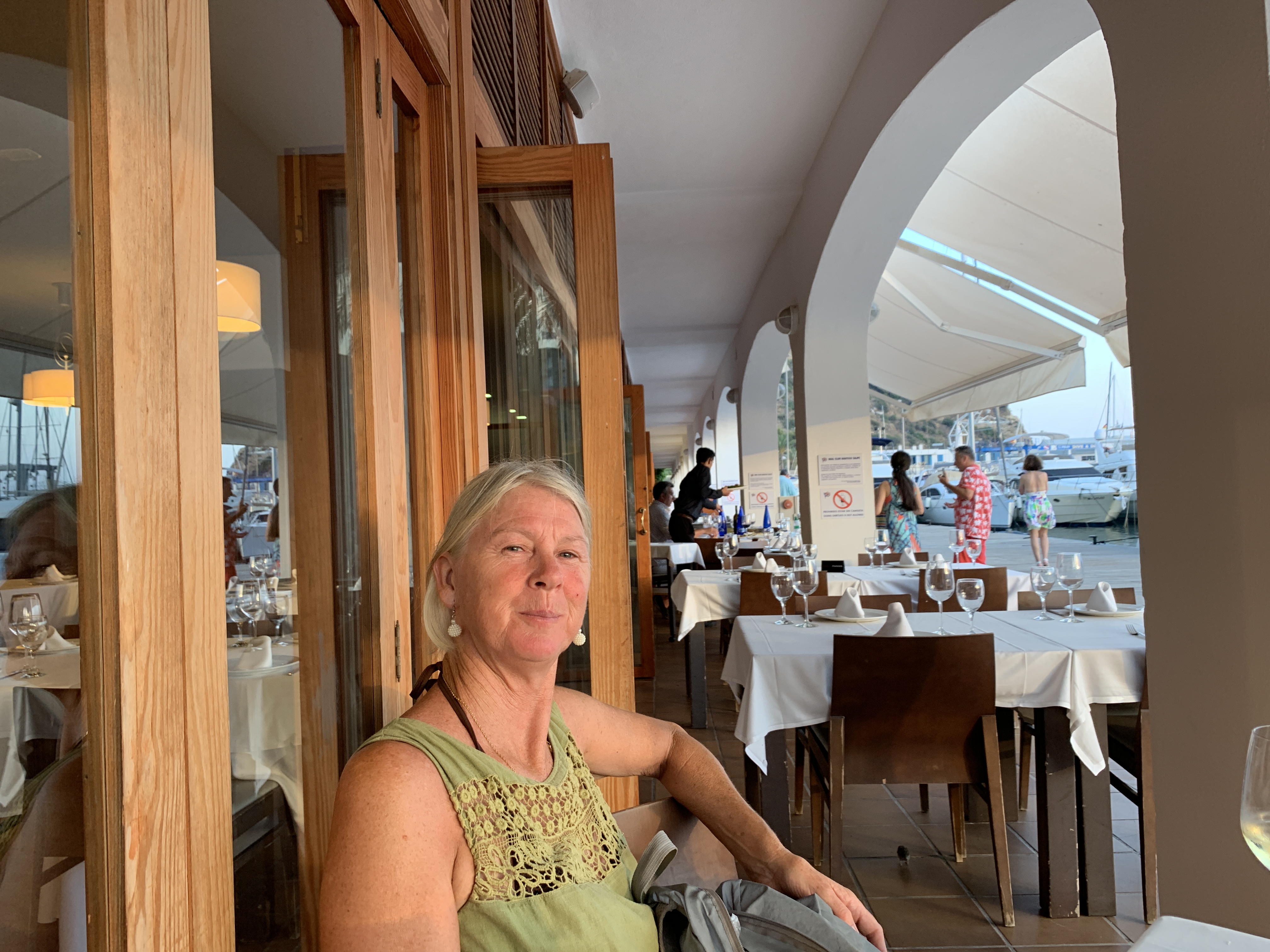 The next morning we decided to tackle to 300m climb up the Penyl D'Ifac, the miniature Gibraltar shaped rock that dominates Calp. To get ashore I paddled the kayak dropped Lee and Zoe off and paddled back to Britt then swam ashore. The first part of the climb was on normal paths but once you go through the famous tunnel it all turns a bit more basic. I wasn't expecting semi climbing like terrain or I might have put some better shoes on. It was a long way up and busy with a lot of people coming the other way, but well worth it for the sense of achievement and the views.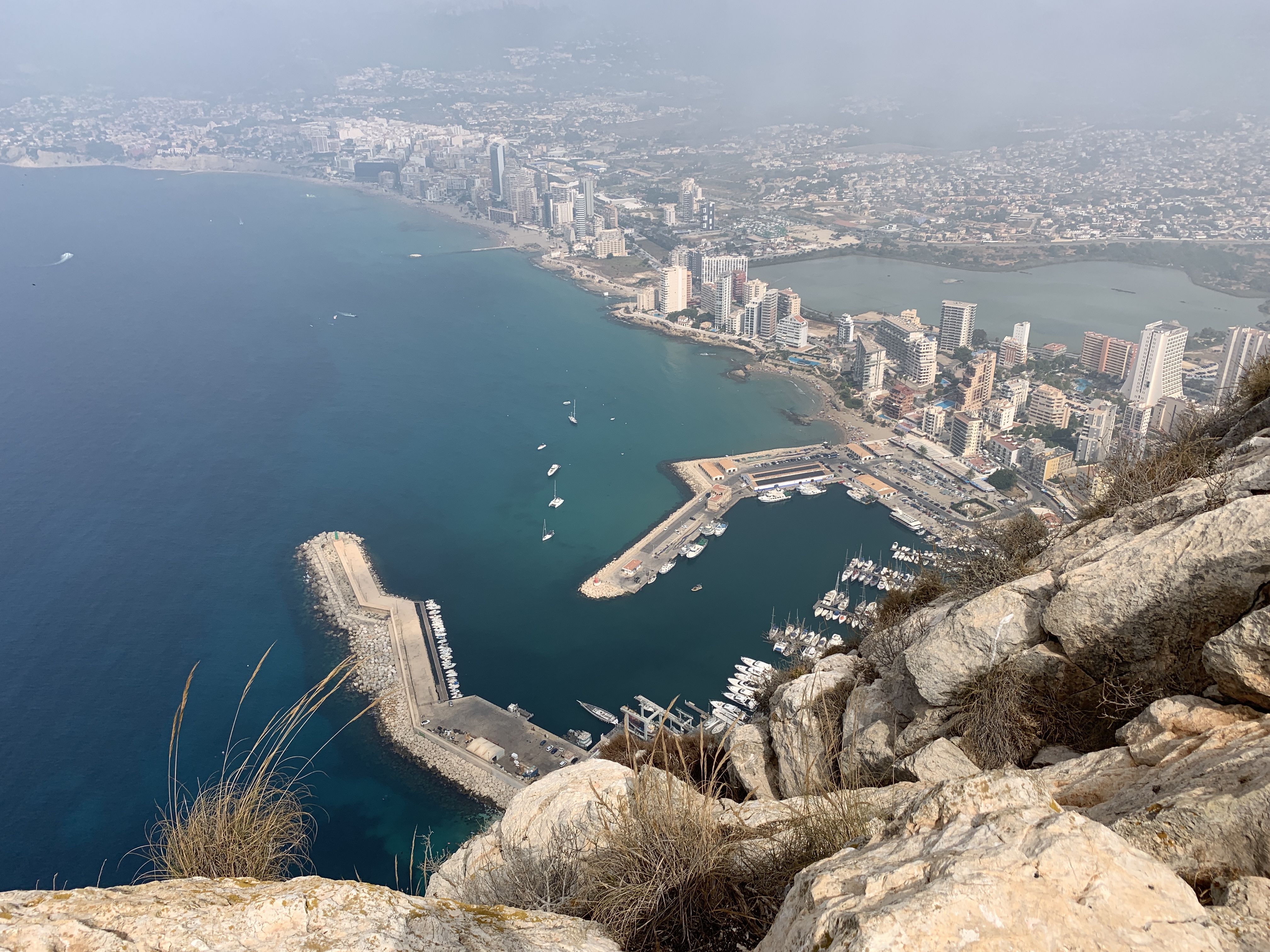 Although it left all of us, even Zoe tired and hot at by the time we got to the top.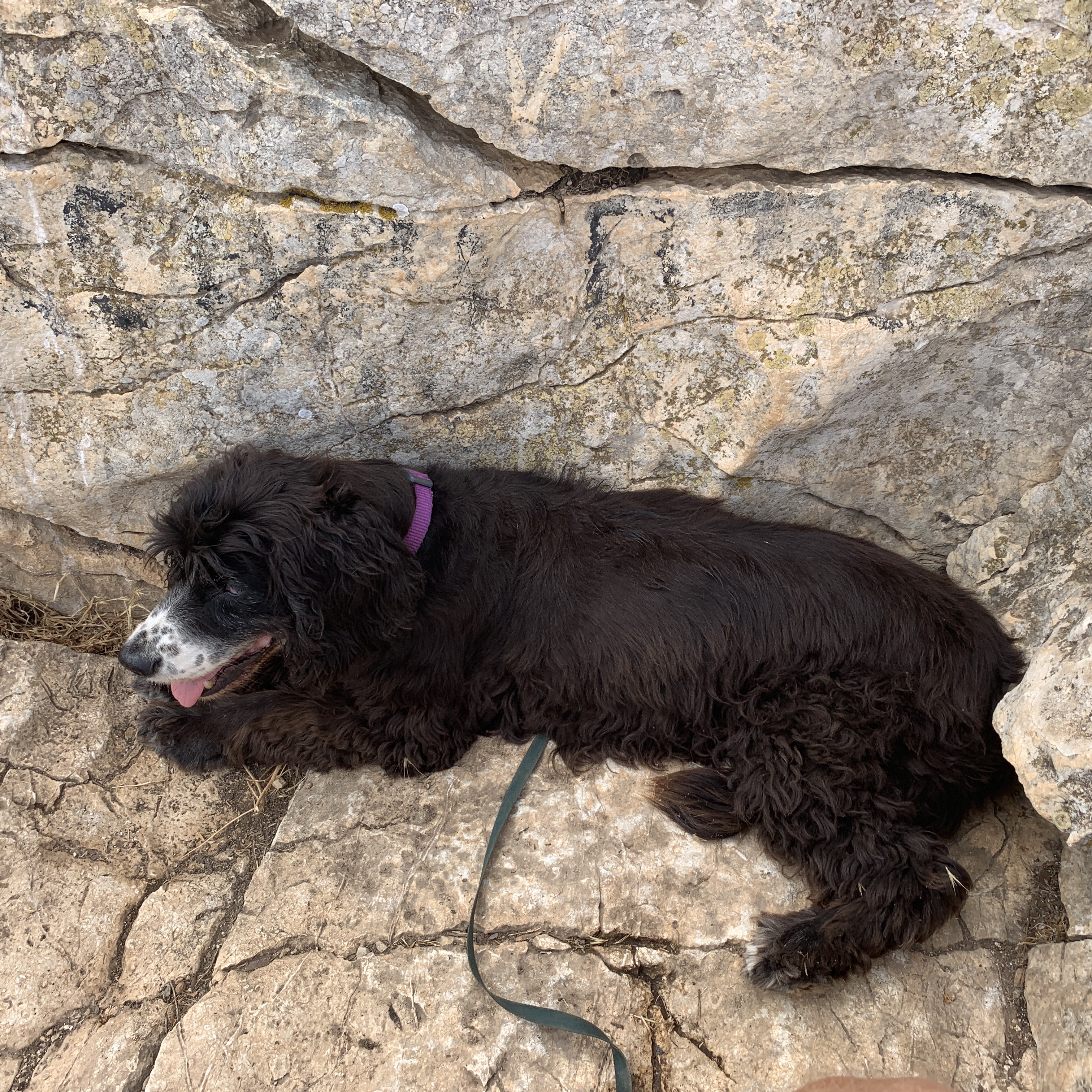 That evening having tired ourselves out we decided to go into town on the tourist train and left Zoe sleeping on Britt. Lee wanted to see the bull running. I'm not keen on that sort of cruelty so went along but waited for Lee away from the action. It turns out Lee didn't approve either as the bulls are taunted by people who are behind barriers, not very sporting - but then that is bull running / bull fighting in a nutshell. We had a bit of a wander around the old town and then were lucky enough to get a seat on the train going back to the port so minimal walking which after our earlier exertions was a relief.
Thursday 8 August 2019
Calp Anchorage to Cala Raco Del Conill Anchorage (38 30.9016N 000 10.8299W) 22NM 1:05 engine, 4:00 sail Wind SW 10 decreasing to S 6
We left Calp around 10:40 and headed South wiht no clear desintation in mind. We went past Illa de Benidorm but the moorings all appeared to be taken. We settled on a small secluded bay just West of Benidorm called Cala Raco Del Conill. We had the anchorage to ourselves and were able to lay 50m of cable in 9m of depth.
Wew stayed on Britt and swam from the boat and then went ashore by kayak early in the morning to let Zoe have a walk. Rather foolishly I forgot my shoes so the walk was a little painful for me.
A point of note on our travels we have now moved back in the Western hemisphere, where we will be staying, if all goes according to plan for the next couple of years until we move back into the Eastern hemisphere somewhere in the Pacific.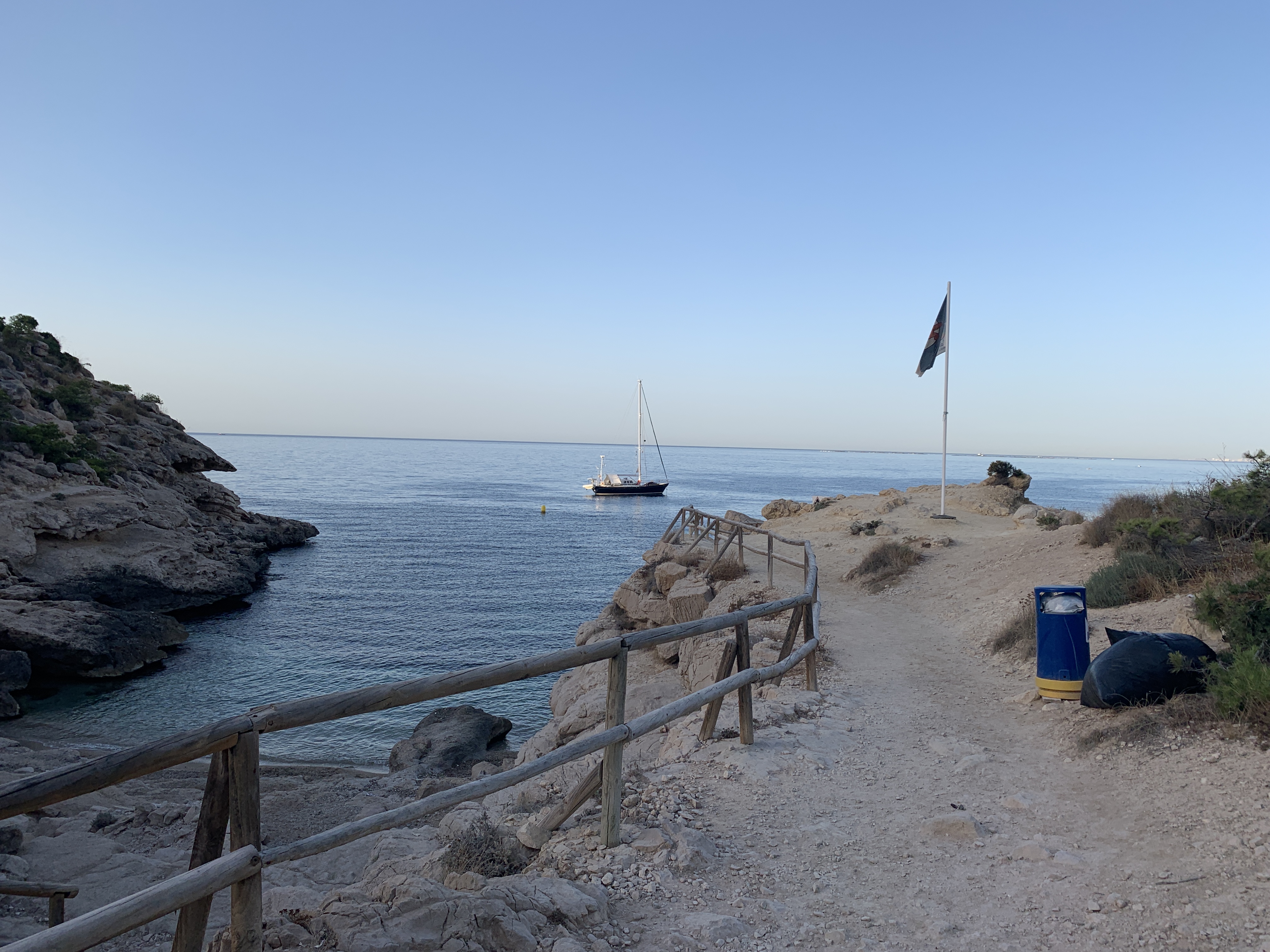 Friday 9 August 2019
Cala Raco Del Conill to Isla Tabarca Anchorage (38 10.1707N 000 28.4714W) 40NM 3:00 engine 5:20 sail Winds S8 increasing to S18 then back to S7
After our walk ashore we packed up and left around 11am. The sails were up and down a few times but during the later part of the afternoon the wind picked up to 20Kts and we had a good sail, albeit hard on the wind and tacking our way towards Tabarca.
I wasn't sure if we would be able to anchor. Officially it is not permitted but when we got there the presence of about 30 otehr anchored boats gave me some comfort that if not approved of it was at least tolerated.
We swam from the boat and decided to savde going ashore for the next morning.