We travelled over on the Eurotunnel on Sunday 24th July. We were expecting some delays as the day before there had been delays of up to 14 hours getting to Dover and several hour delays through the tunnel. As it turned out we queued for about 30 minutes to get to checkin and then we were sent straight to passports and boarding. In the end we were only about 30 minutes late.
Traffic was bad so we took back roads thorugh Belgium and it was well after midnight when we arrived at the marina. Here began our next problem. it seems that my pass for the marina car park only works from 7am until 12pm. Outside of those hours you are expected to park outside. Given our boat is at the other end of the marina and we had a car load of gear to unload lateral thinking was required. My friend Miles quickly determined our car would fit around the barrier on the pavement so that was the route we took. Not ideal but needs must.
Once unloaded it was well after 2 by the time we had a beer and called it a day. No great rush in the morning as Zoe our dog had an appointment at the local vet at 10:30am to get a pill and stamp in her passport as required by the Norwegian authorities. She shouldn't be getting any worms as it was only 2 weeks ago she had exactly the same in order to satisfy the British authorities.

We had a coupke of jobs to sort out including putting the larger tender in a storage spot and fitting a new water pump for the Whispergen. It was nearly 3pm by the time we finally got away.
We opted to have an easy trip as we were still all tired after out prvious days travelling. Miles more so as he had come all the way from Cornwall. We decided to spend the night in Enkhuizen which was only a 4 1/2 hour journey mostly under sail. I called the marina in advance and they offered us N hammerhead which was very convenient. After a meal and a wallk in the town we called it a night and had our last comfortable night's sleep for a couple of days.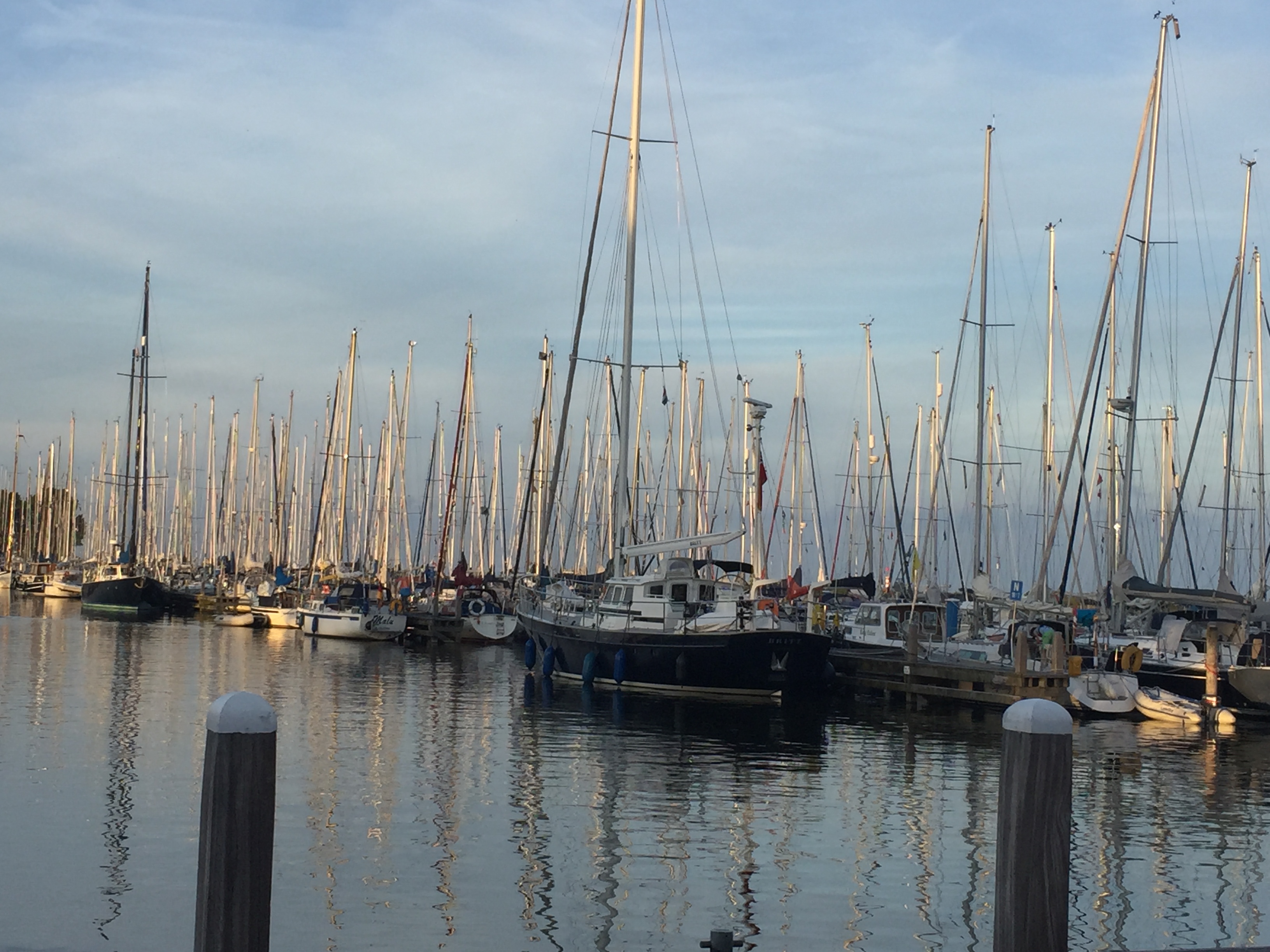 Britt in a very still Enkhuizen