Wednesday 1 August 2018
Anchorage in Pobra to Anchorage Punta Caballo Isla De Arousa (42 34.1479N 008 53.3221W) 3NM all on engine. Wind NNE 10KTS.

We motored across from Pobra and anchored off a beautiful but busy tourist beach.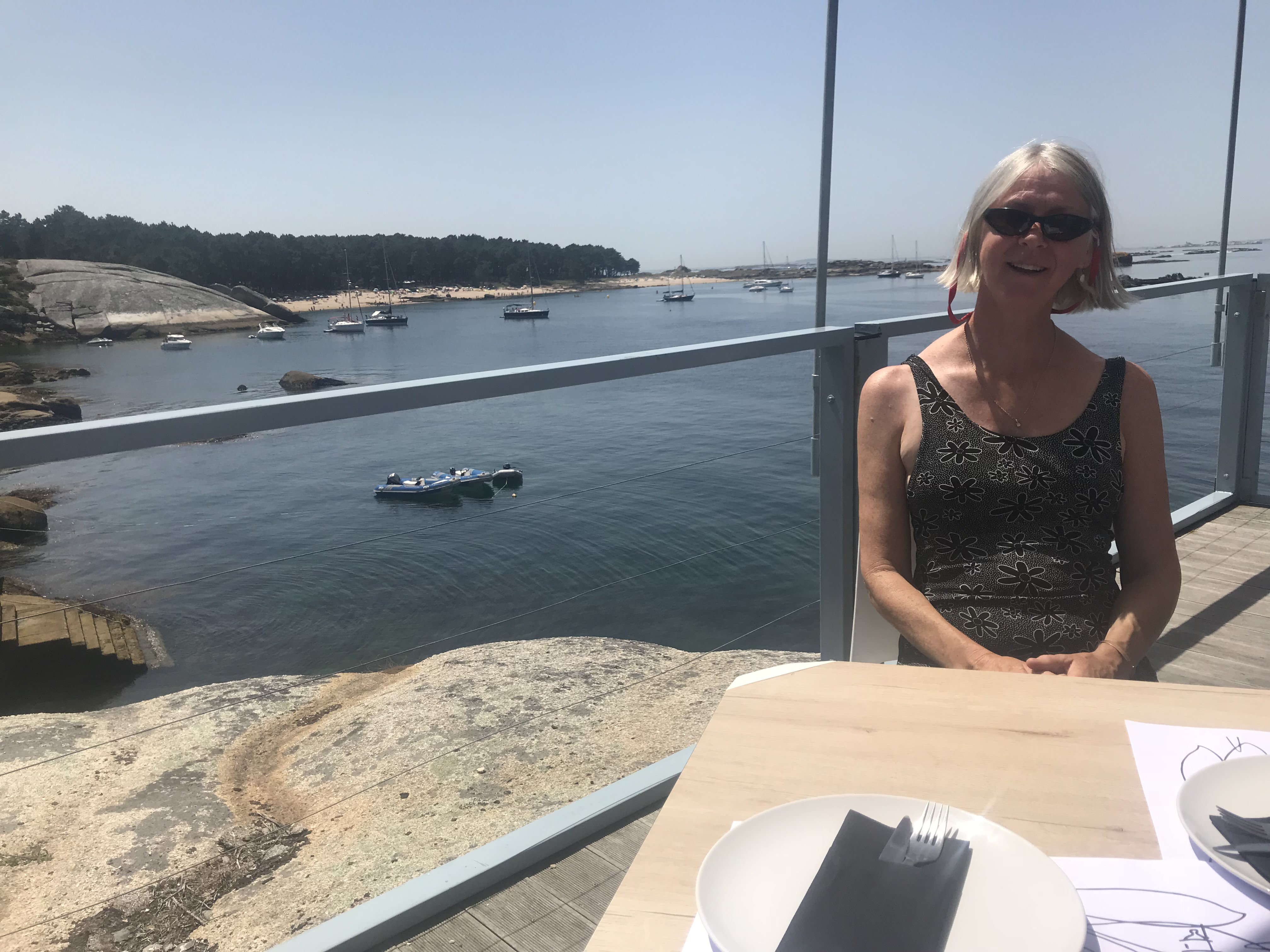 On our first day we walked around to the old lighthouse on the other side of the bay. It was now a restaurant and we had a lovely lunch there with a great view over the bay with Britt in the distance.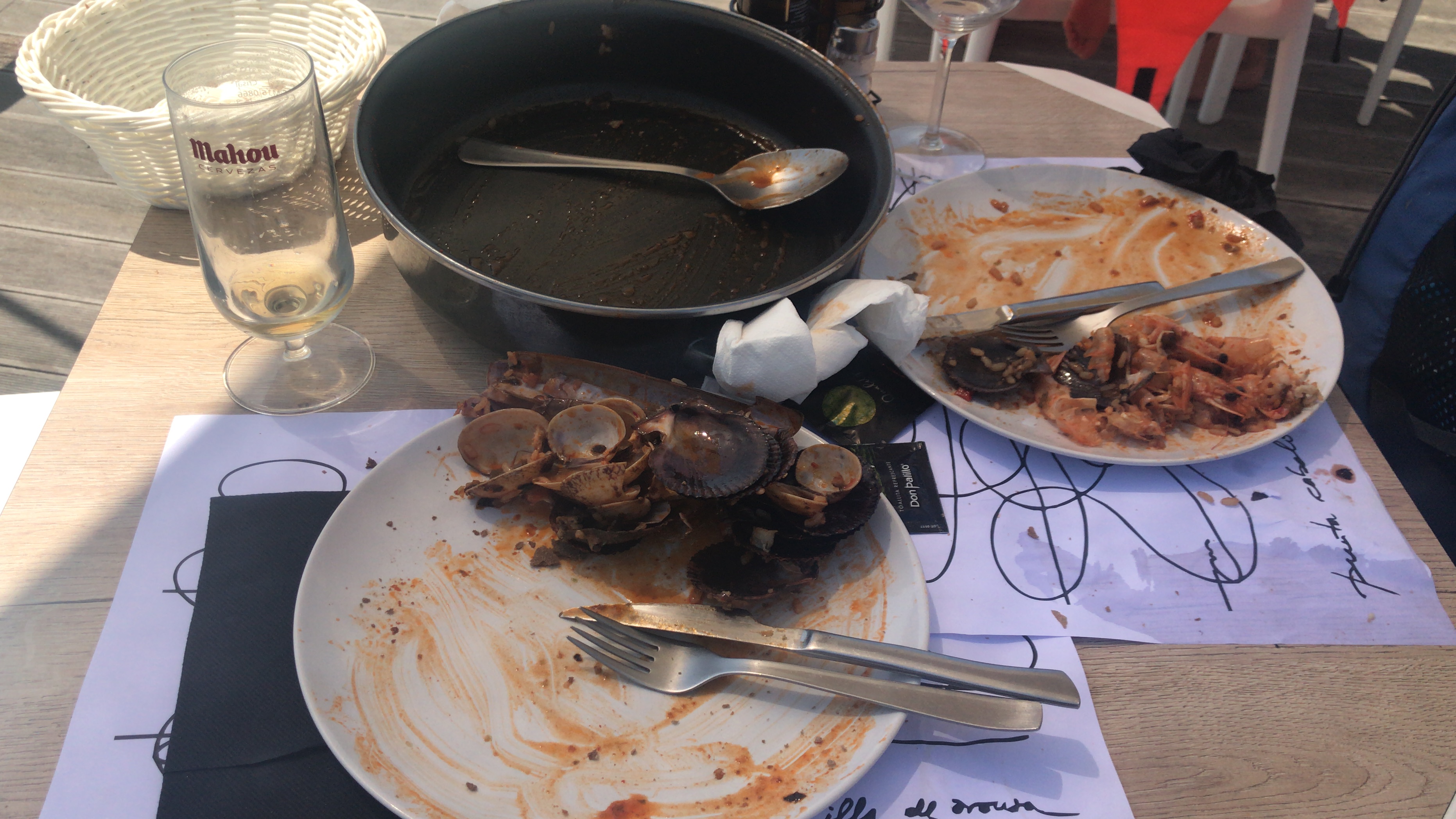 We continue to forget to take a picture of the food before we eat it, so here is the after picture.
We had a lovely stay here and enjoyed the walk around the Island into the town.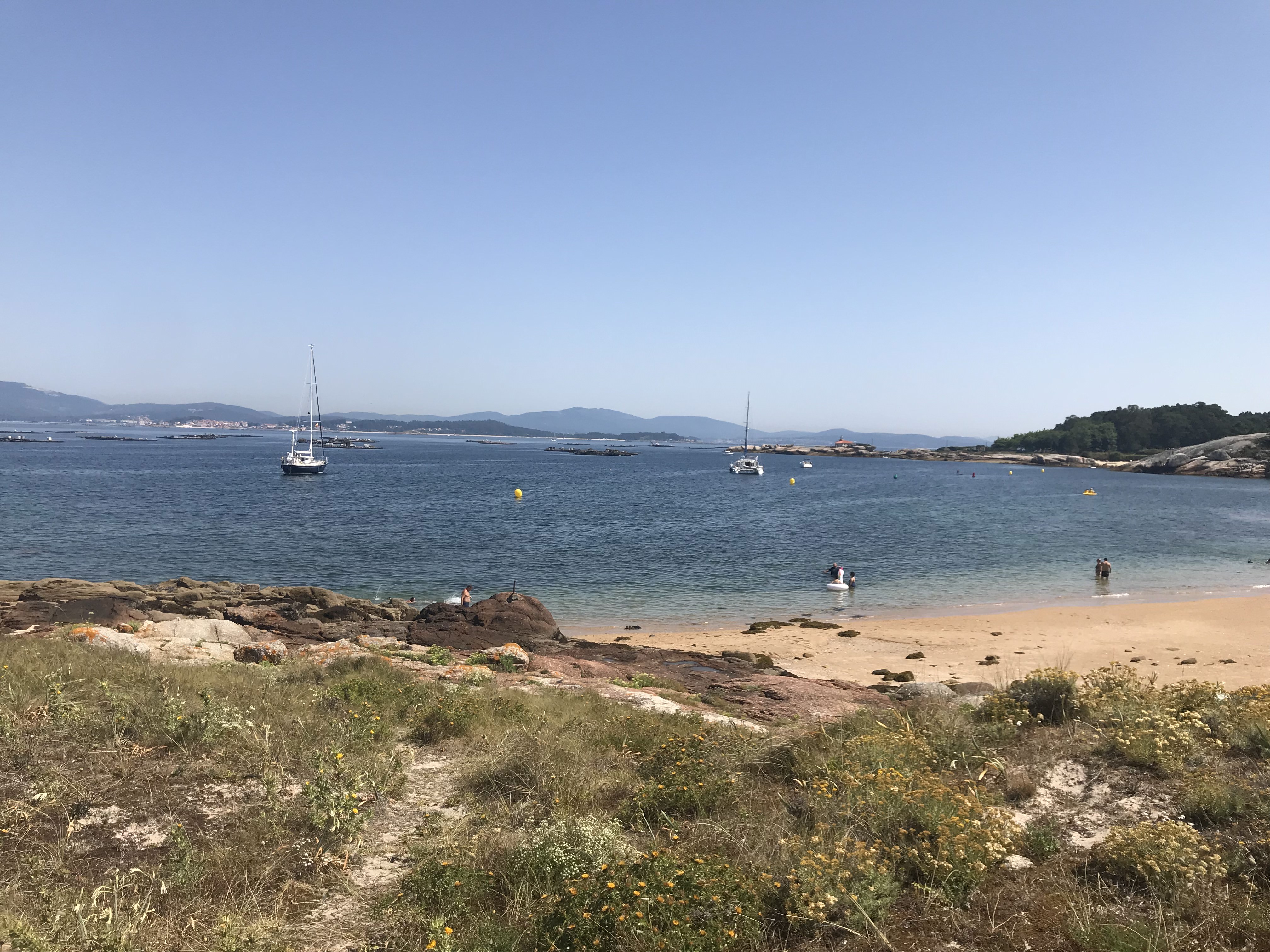 Britt with the mussel batea in the background.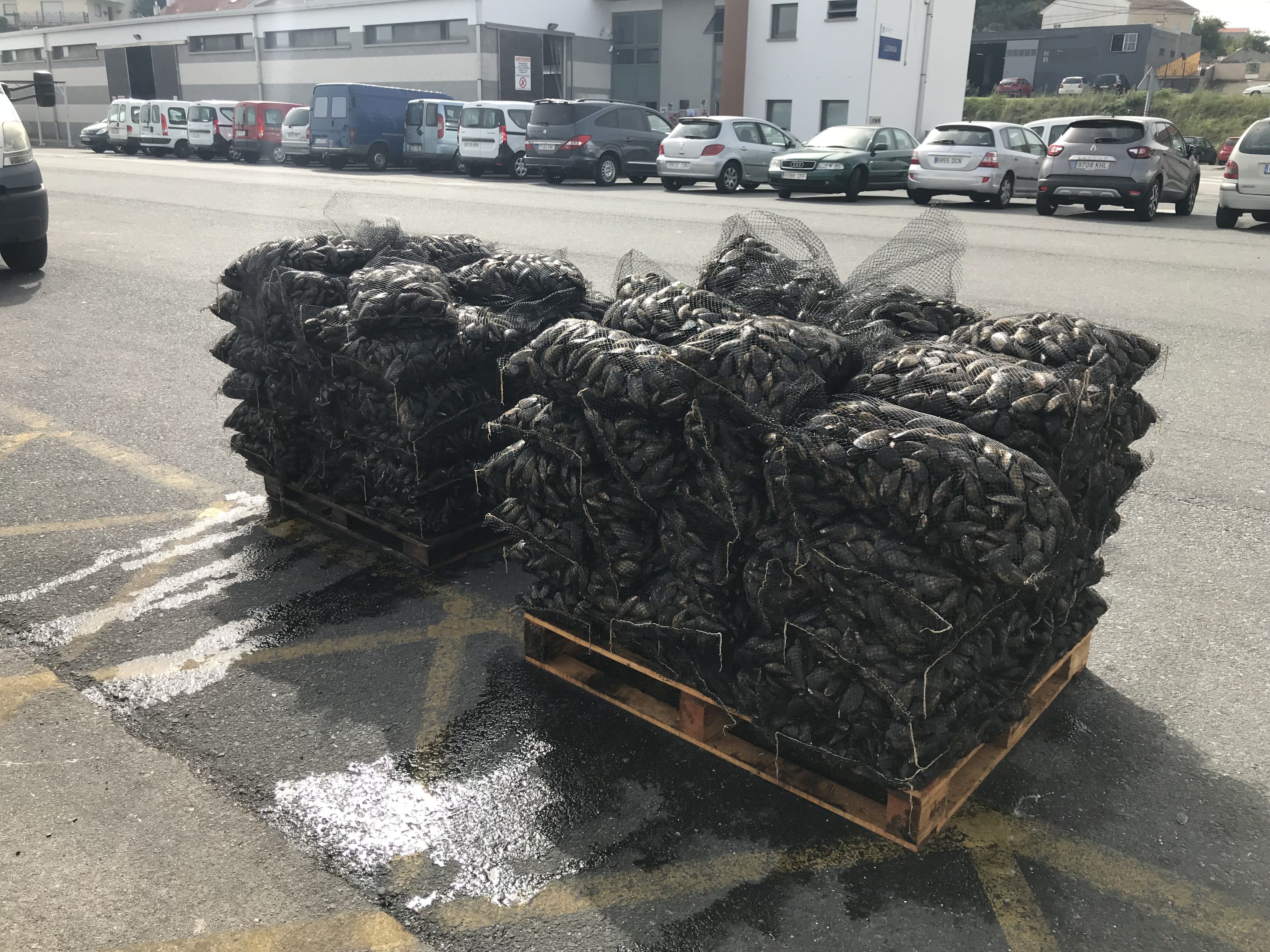 And these are the fruits of their labour.
In the small town there were two notable things. A couple of large tents where a local football club were preparing and serving local dishes at very reasonable prices. We ate there several times and enjoyed it. The tents had a great view of the harbour. The other notable thing was one stall at the otherwise average Saturday market. This stall sold bread, cheese and charcuterie. If you wanted to try sonmething out you would get a huge portion. If you bought more than about 30EUR of stuff you alos got a free bottle of wine.

Tuesday 7 August 2018
Anchorage Punta Caballo to Marina Villagarcia. 6NM all on engine. Wind NE 8KTS.
We explored center of Villagarcia and had a nice lunch then the next mornng Lee left on the train to Santiago to fly back to the UK to sort out our flat as all the furniture needed to go into storage. I stayed on Britt with Zoe. I had my first haircut in Spain. I think they understood me as it turned out pretty much as I expected.
Thursday 9 August 2018
Villagarcia Marina to Anchorage Punta Cabalo Isla De Arousa (42 34.1476N 008 53.310W) 6NM all on engine. Wind NNE 4-10KTS
After a night in the marina on my own it was time to go back out onto the anchor again. I returned to the anchorage off Isla De Arousa as we'd had no problems there and getting ashore with Zoe was easy enough. I revisited the food tents but a new club had taken overand the fare didn't seem quite as good. The view was still great though.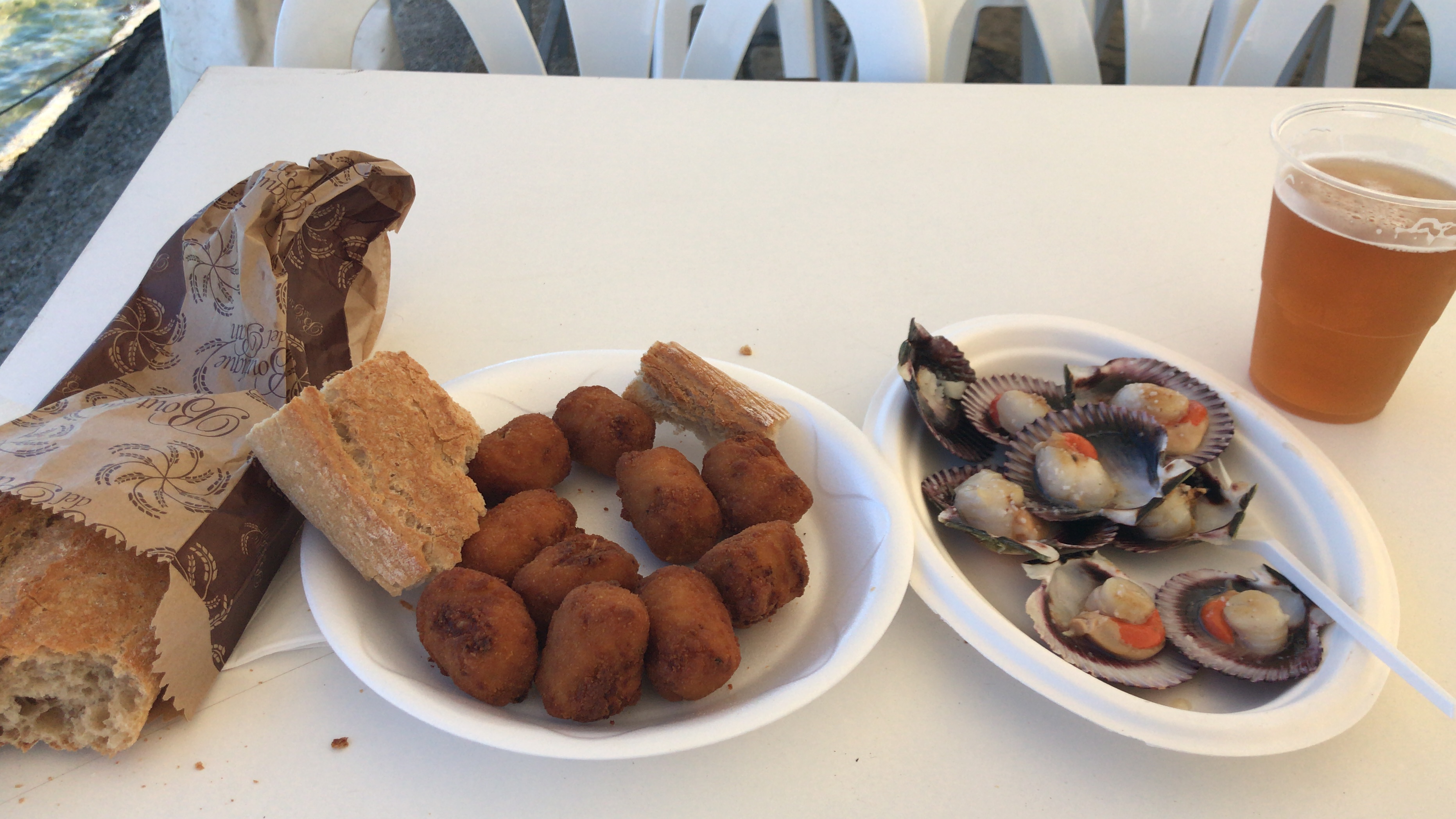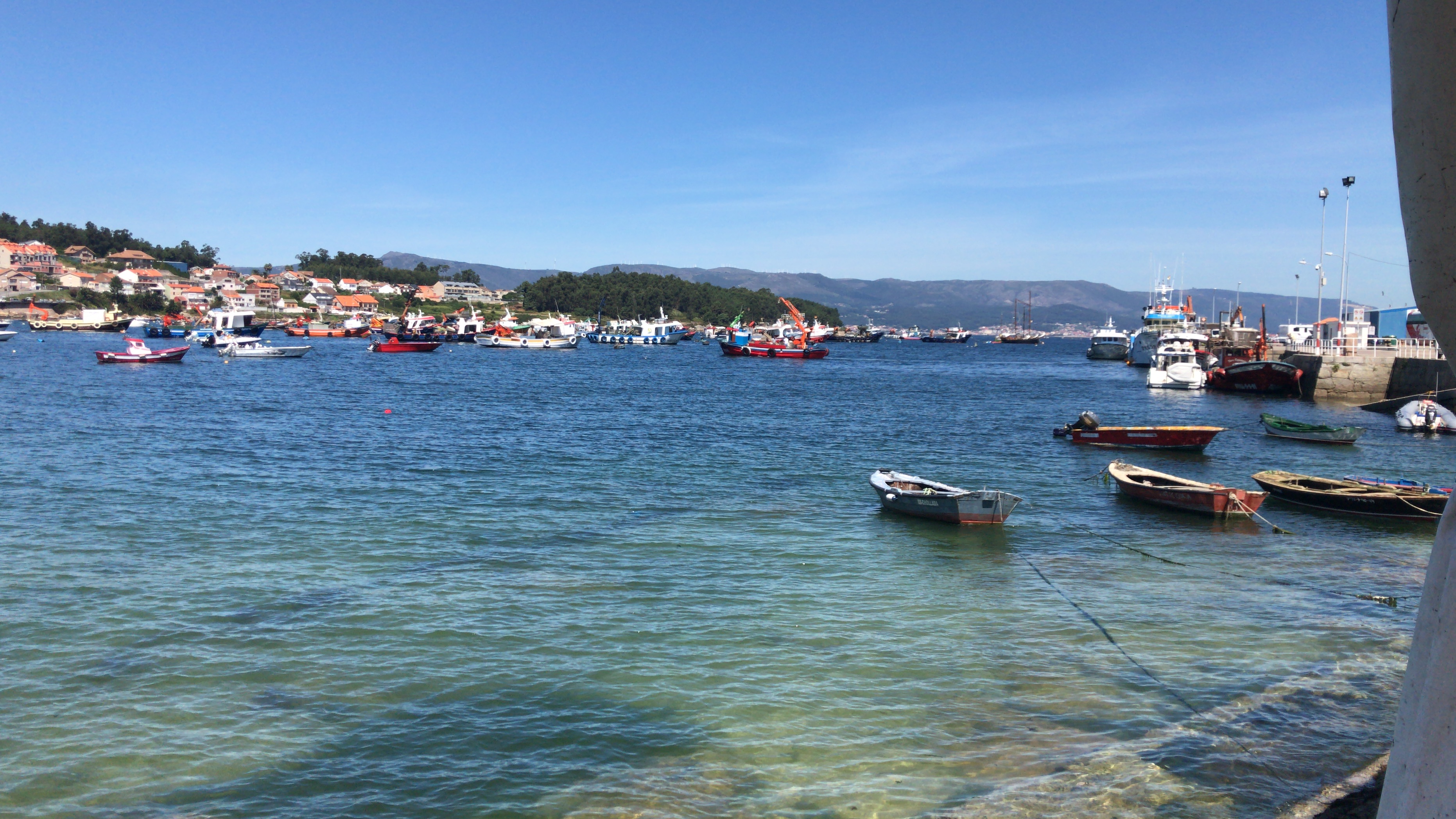 Sunday 12 August 2018
Anchorage Punta Cabalo to Marina Muros 27NM all on engine. Minimal wind and heavy fog once out of the Ria.
After a few days at anchor off Isla De Arousa it was time to head back to Muros to find out if my autopilot repair had been completed. The journey was complicated by heavy fog so I relied on the radar, GPS and AIS to help me. not a very enjoytable journey but good experience.
Tuesday 14 August 2018
Marina Muros to Anchorage Punta San Francisco (42 45.4828N 009 03.9514W) 3NM all on engine.
The autopilot wasn't ready yet and they suggested I come back in another week! So I decided to go back out to anchor in a few places around Ria Muros. San Francisco was a couple of miles West of Muros. A nice sandy beach whihc was easy to get ashore on using the paddleboard. Zoe and I hjad a couple of nice walks in the hills around the area including one that took us out to the Atlantic beaches.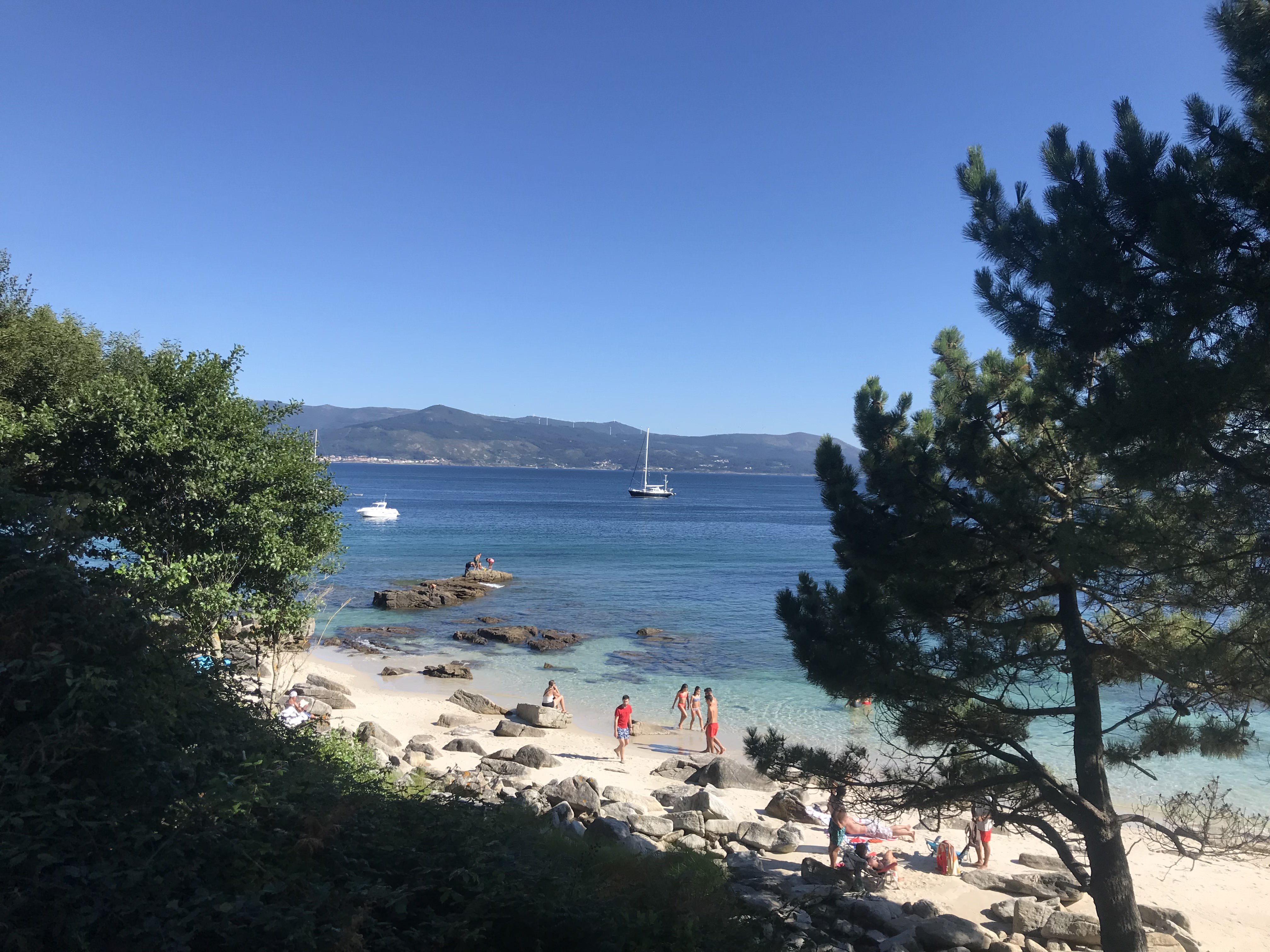 Thursday 16 August 2018
Anchorage Punta San Francisco to Anchorage Ensenada de Bornalle (42 47.7673N 009 01.1461W) 4NM all on engine. N 10 - 20 KTS.
It's probably worth noting here that whilst I'm on my own and the autopilot isn't working I'm not using the sails. I guess I should have tried but at the time I was focused on steering and navigating.
Zoe and I again went ashore here by paddleboard and had a couple of nice long walks up into the hills. I'm not sure if it was the fish canning factory that was near us but we seemed to have a plague of flies. I must have swatted a hundred or more over the course of a few days here!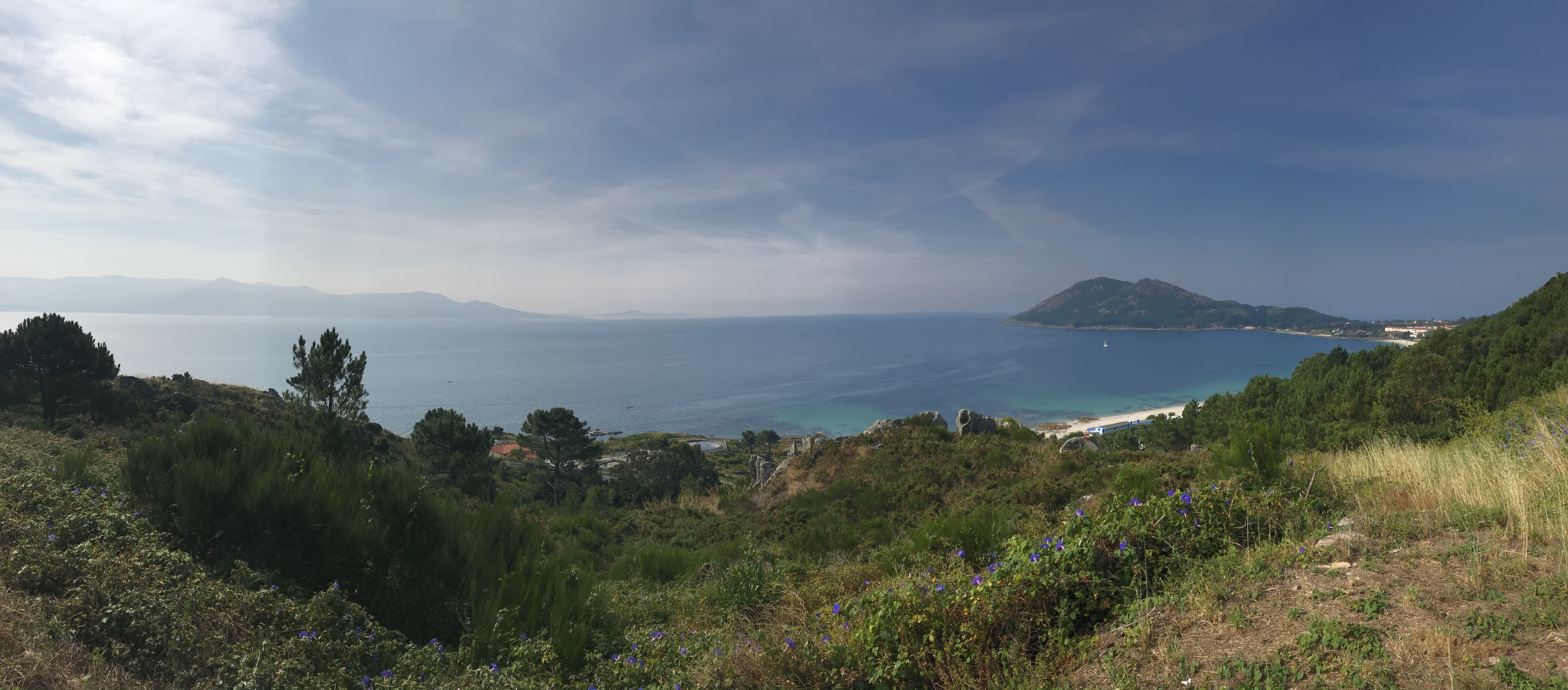 It was a long walk up into the hills and Zoe enjoyed the small stream near the bottom on the way back home.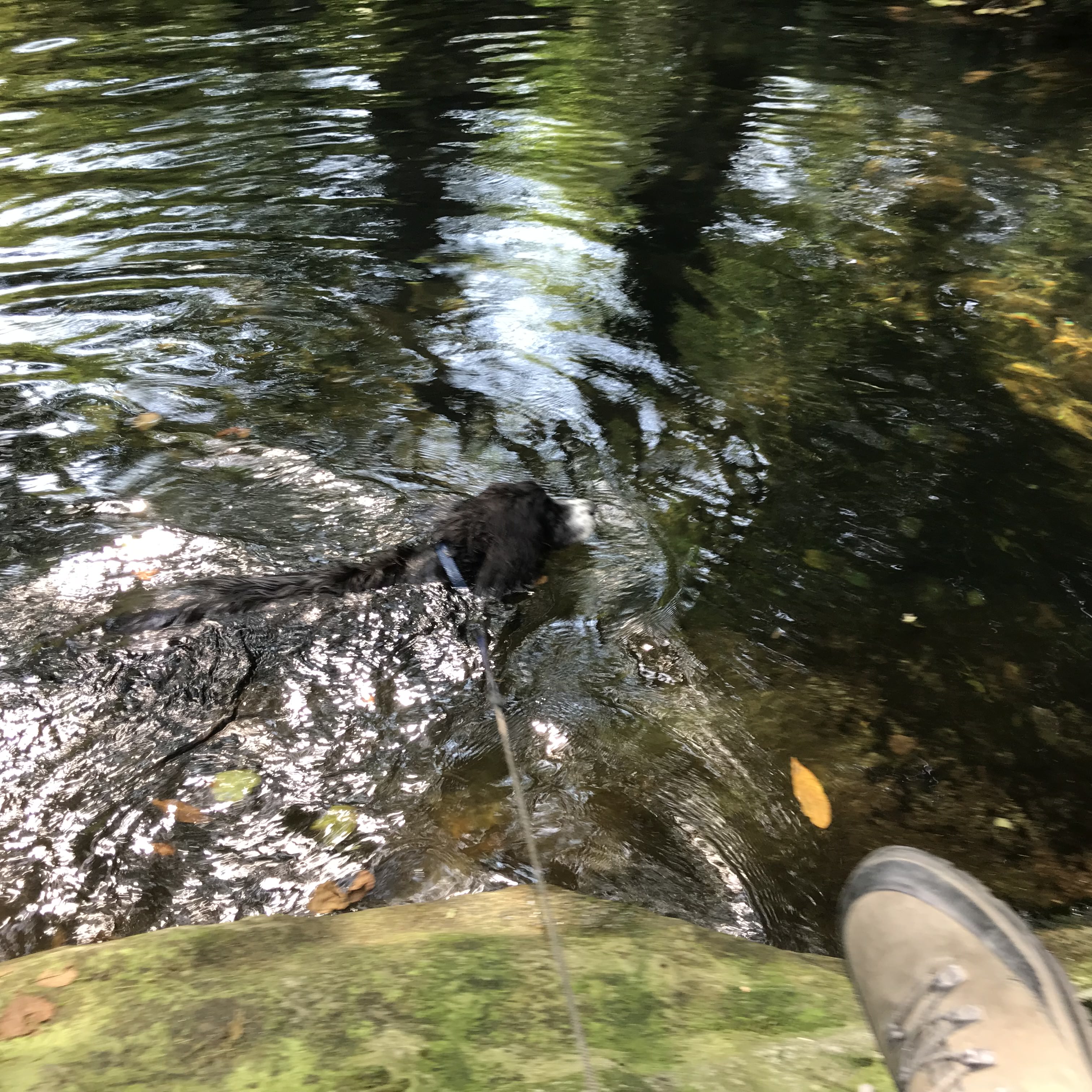 Wednesday 22 August 2018
Anchorage Ensenada de Boranalle to Anchorage Muros (42 46.7873N 009 03.4933W) 2NM all on engine. No wind.

I anchored in Muros planning to go ashore to find out how things were going with the autopilot but then got an email advising me it was ready so I contacted the marina and lifted the anchor and went in to take a berth instead.
I fitted the autopilot and it was great to see the wheel turning again without my assistance. All appeared to be as it should be but the real test would be on the water.
Friday 24 August 2018
Marina Muros to Anchorage Ila De Arousa (42 33.4296N 008 52.4817W) 29NM 1:20 hour on engine 5:40 under sail. N / NE 15-20KTS
It looked a bit ominous first thing in the morning before I departed but once outside the fog cleared up.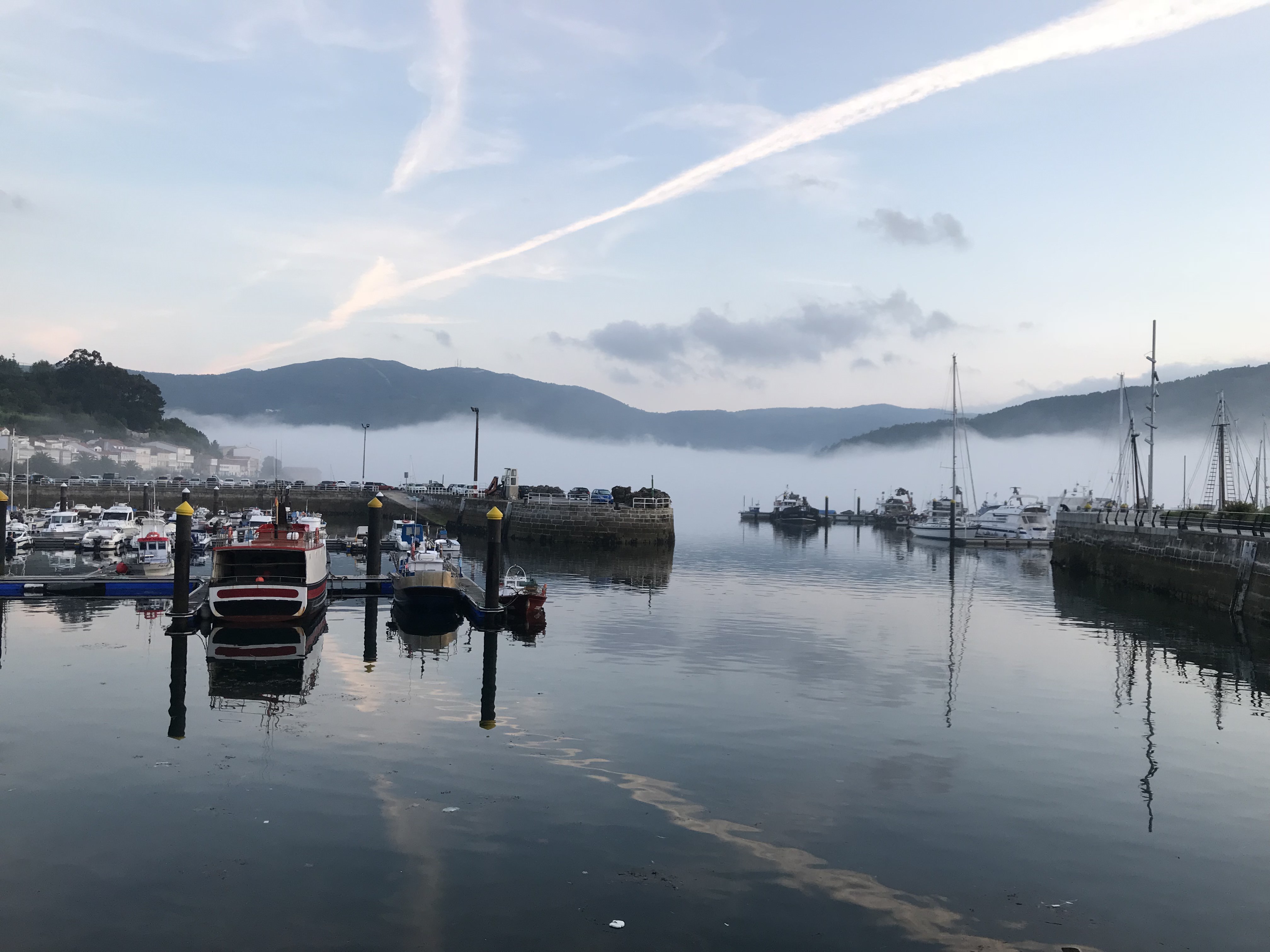 Once clear of Muros I got the sails out with 1 reef in each and had a great sail out of the Ria Muros. Once back in the Ria D'Arousa I had to tack my way up against the wind which was fun, but only really possible with the autopilot working.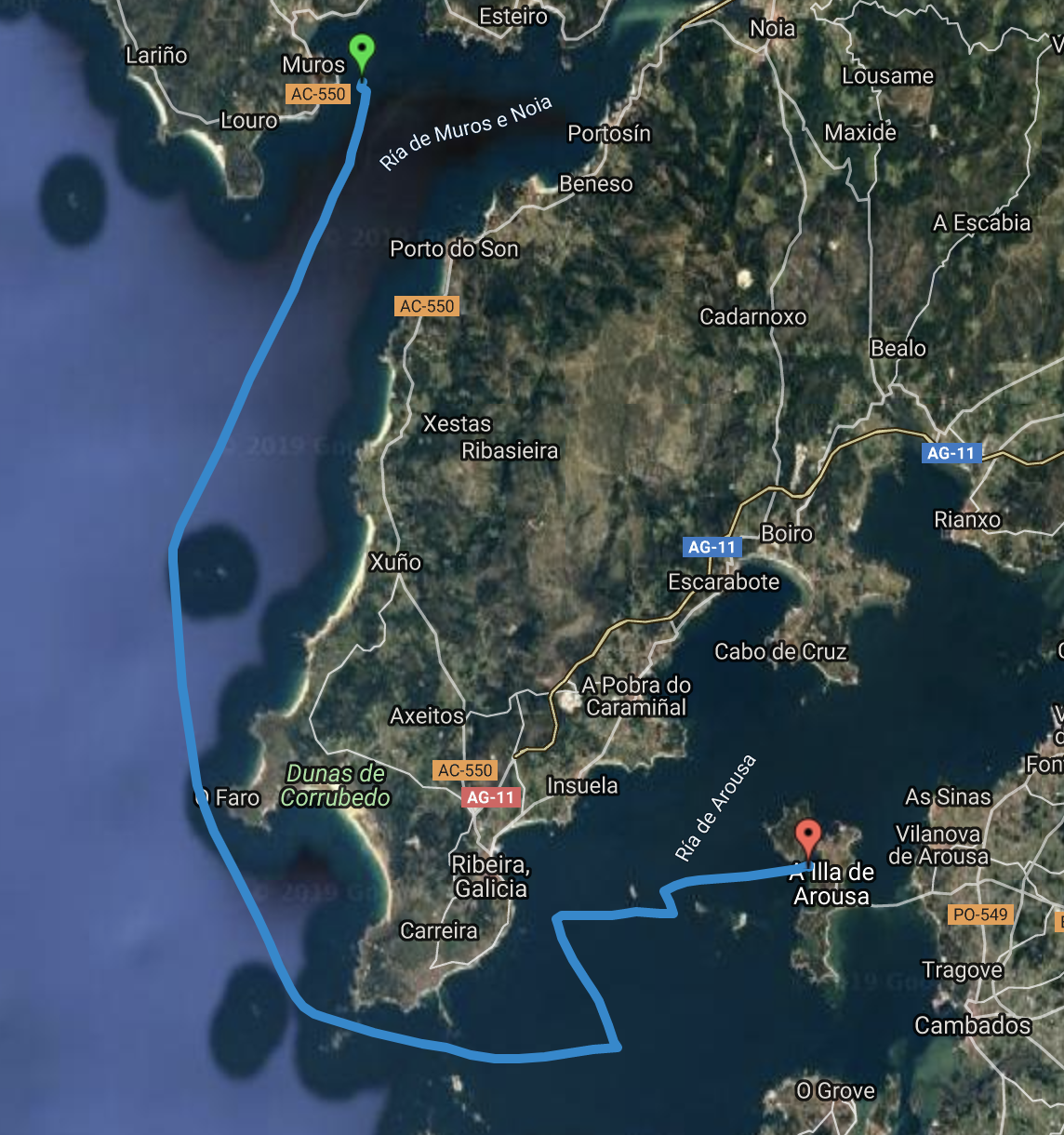 I decided to switch anchorages and anchor on the Eastern side of the island near the harbour.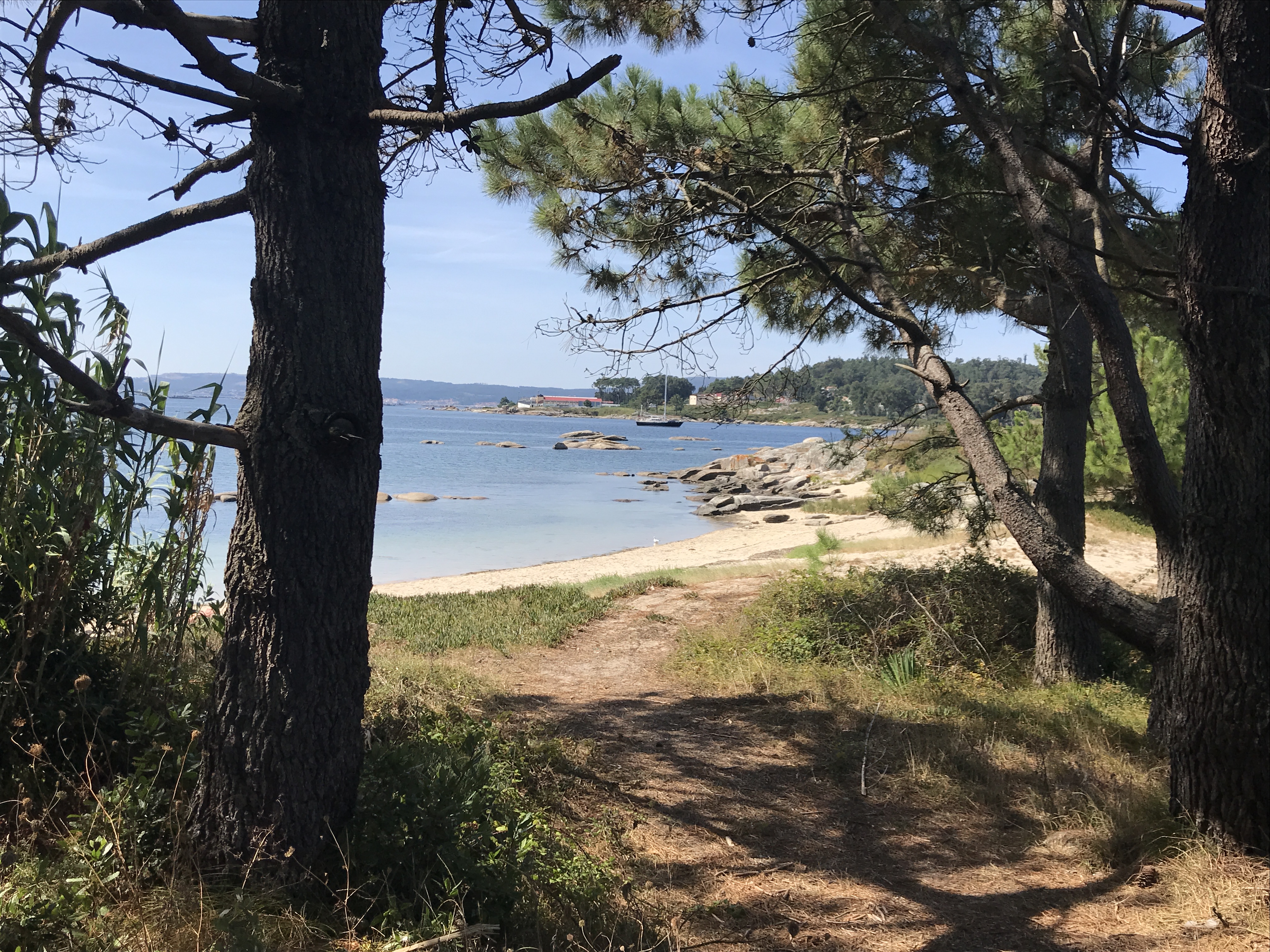 Zoe and I had a couple of nice long walks exploring parts of the Island the we had not been to when Lee was with us. The after a few days it was time to head back to Villagarcia to meet Lee who was flying back.
Monday 276 August 2018
Anchoirage Isla De Arousa to Anchorage Villagarcia (42 36.267N 008 46.2325W) 10NM 2 hours all on engine. NE 10-20KTS
With the wind against me I motored to Villagarcia. We'd spotted the anchorage last time when we went into the marina so I thought I'd give it a go this time.
Zoe and I had a walk in the hills behind Villagracia and then met Lee at the station. Before we came back down to town we found another handy swimming pool for Zoe.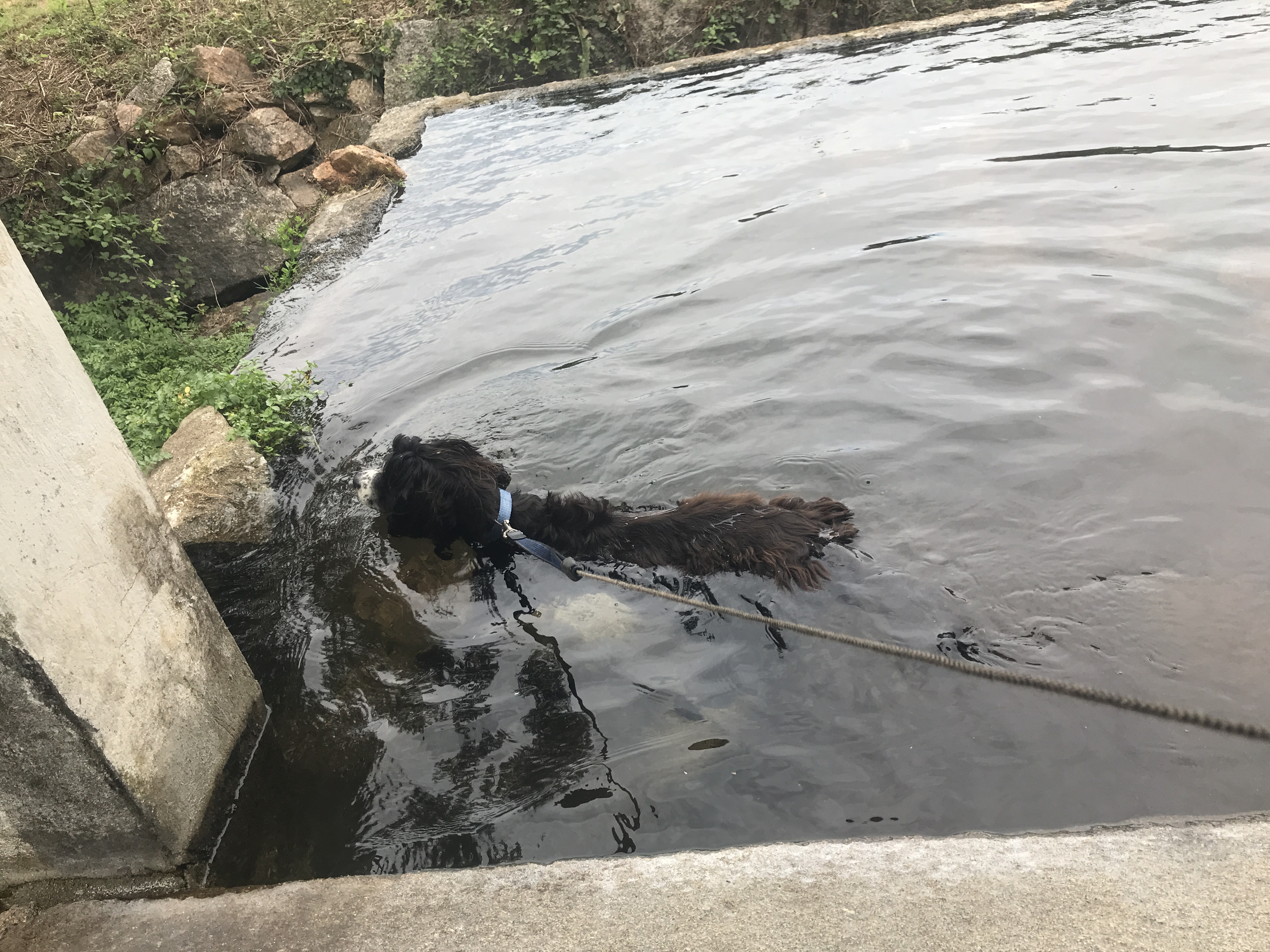 After Lee arrived we did a little shopping had a beer and then went back to Britt.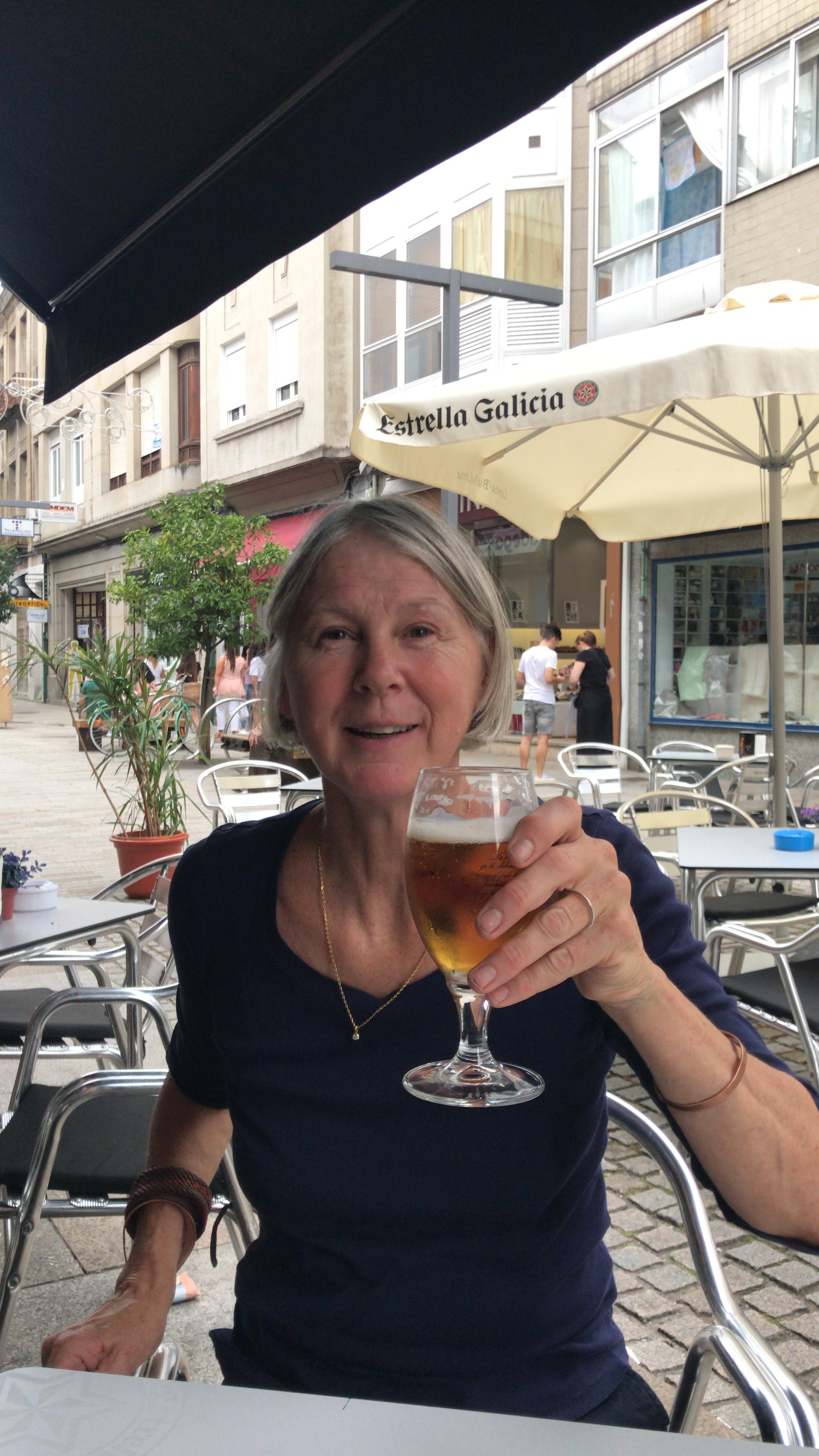 Tuesday 28 August 2018
Anchorage Villagarcia to Anchorage Combarro (42 25.6797N 008 42.0371W) 28NM all on engine. No wind.
We motored from Villagracia to the Ria De Pontevedra as there was little wind. Got to see some dolphins on the way which made up for the fact we were motoring
We went for a walk and saw a flight of old watermills. We also walked the streets of Combarro. A lovely old fishing town now mosty given over to tourists.
Thursday 30 August 2018
Anchorage Combarro to Anchorage Baiona (42 07.0656N 008 50.3725W) 24NM 3:50 on engine 1:10 under sail N/N E 10-15KTS
We spent a few days in Baiona which was a nice little town.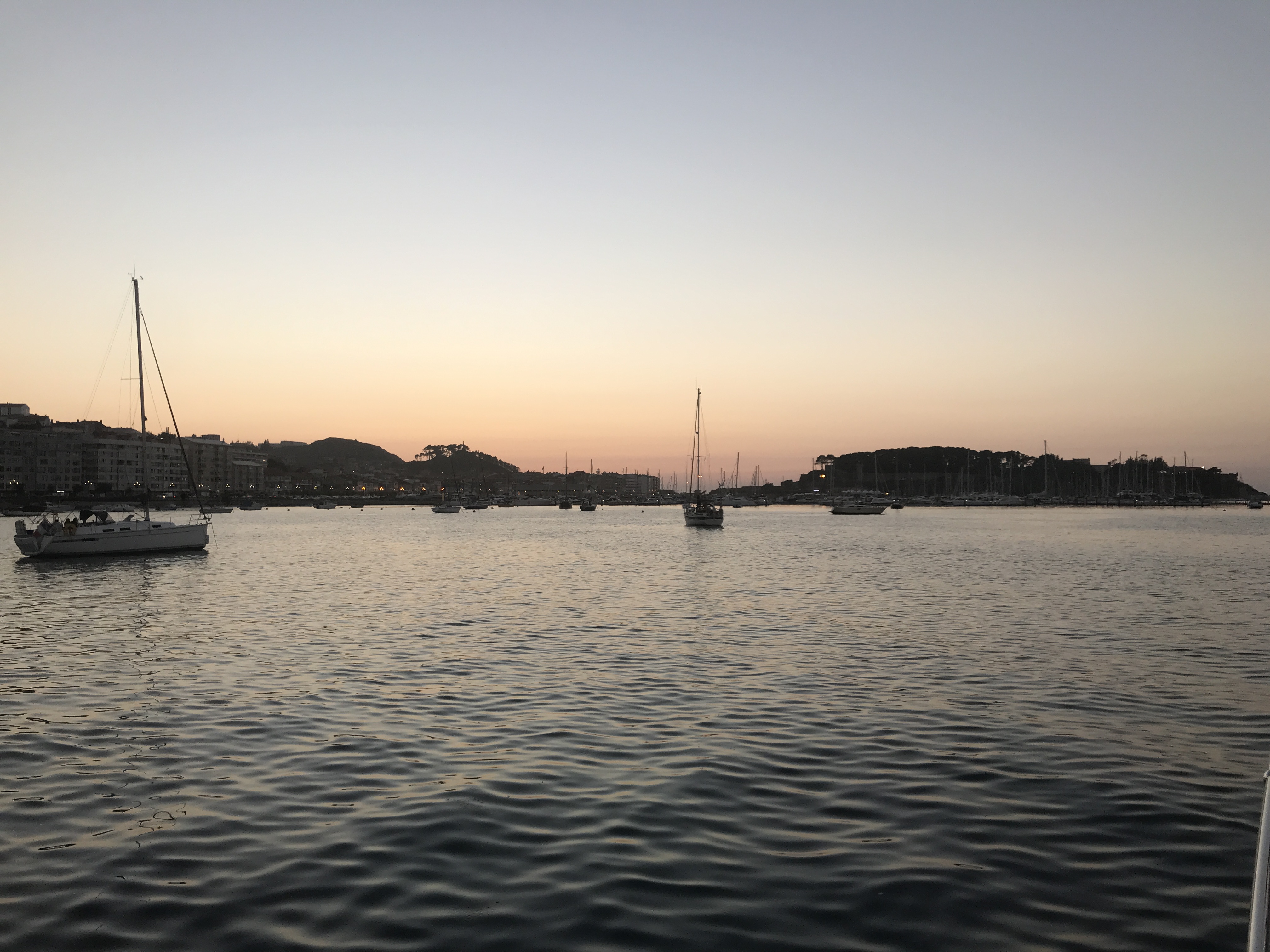 Whilst in Baiona I decided to cycle to Decathalon in Vigo about 30km away to buy an inflaltible kayak. The trip didn't work out quite as smoothly as I had planned as my derailieur jammed in the spokes and brok off rendering the bike unusab kle with about 10k still to go. I thoiught I'd walk the rest pushing the bike and then get the parts to repair it in Decathalon. I hadn't counted on the heat and by the time I got to Decathalon at the top of a big hill I was feeling quite faint from the heat. They had the kayak but not the parts I needed to fix my bike. In the end I decided to buy a new electric bike and consign the old one to a skip. The ride back was nice and the electriuc bike worked well but by the time I got back it was nearly dark and poor Lee and Zoe had been stuck on land all day. Getting a full size electric bike on and off the dinghy was fun too!